What Is Off Page SEO ? Learn How It Helps In Improving Page Ranking
What is Off Page SEO? You are looking for ways to learn about SEO and SEO techniques and SEO tools and strategies to improve your website ranking. Well, who isn't?? Businesses wants to rank their website on Google's first page ranking and that is where On-page SEO and Off-page SEO comes in.
Does your SEO strategies involve doing Off  Page SEO activities?
Off-page SEO also known as off-site SEO is a crucial part of SEO activity that helps your website offering an improved visibility, brand awareness ultimately increasing conversion rate.
Understand What Is Off Page SEO?
For those who have no clarity about Off-page SEO, to explain in layman terms it refers to various actions taken outside of your own website to improve the page ranking within the search engine results page. It boost your page ranking, let Google recognize your website worth.
Though many people associate off-page SEO with link building, it goes beyond that. Many SEO activities that don't result in a standard link on other sites are important for off-page optimization.
On-page search engine optimization happens within the site, while off-page SEO happens outside the site. If you write a guest post for another blog or leave a comment, you're doing off-page site promotion.
This is how you get into the top spots of the search engine results and see some serious traffic. Understanding the essential off-page SEO factors that will contribute to how well your website ranks in the search engines is vital to your success.
Furthermore, take into account several factors when ranking a website: on-page SEO, off-page SEO, and other important Google-backed factors.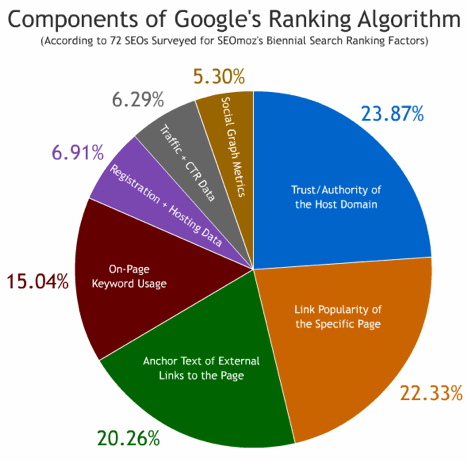 Off Page SEO And Linkbuilding 
While search algorithms and ranking factors are constantly changing, the general consensus within the SEO community is that the relevance, trustworthiness, and authority that effective off-site SEO affords a website still play a major role in a page's ability to rank.
Links are the glue that keeps the web together. Search engines use links to determine how valuable a piece of content or a particular site is. Getting quality links has always been a great tactic if you're serious about ranking. And who isn't?
The biggest off-page SEO factor is the number and quality of backlinks to your website. Some examples of ways you can build links to your website are:
Creating awesome content that people want to link to because it is valuable.

Social media shares of your content that ultimately generate links.

Outreach e-mails to influencers in your industry that ultimately link to you.

Guest blogging on sites related to yours. These guest posts will have links back to your site.
Off Page SEO Techniques 2018
Off-page SEO techniques will help make your website popular on the internet, and gain more visibility. With these on-page techniques not only you get a better visibility but, boost in your page ranking, improved web traffic,  more visitors and ultimately improving your sales funnel.
Take a look at the list of top off page SEO techniques:
Social Media Engagement
Facebook, Twitter, Google+, and Instagram are the buzzwords of the day. They've never been so successful and strong in their entire existence. They surely know how to engage people.
Social signals might matter to Google when ranking a page. You need to win your audience in order to make Google or any other search engine like you and rank you high.
Shares and likes are the social media magic tricks. They make your business grow and spread like wildfire. Whenever sharing relevant, fresh, and engaging content with your community of users, you win new subscribers, fans, or leads.
Blogging/ Blog Marketing
Blogging is one of the best ways to promote your website online! By writing a blog for your website, you give a reason for visitors to keep returning to your site and keep up to date with your latest posts. It also helps search engines to crawl your site more frequently, as they have to update your latest blog post entries, which ultimately helps you rank higher in search engine results pages.
Post comments on other blogs within the same niche as yours, which allow you to add a link in the comments section. These links can then be crawled by search engines, helping to point them towards your site. These blogs are commonly referred to as "Do-Follow" Blogs.
Directory Submission
Many people may say that directory submission is dead. It isn't.  It is purely based on how effectively we are selecting those directories and how efficiently we are choosing the category for submission.
You could submit to general directories, but for maximum effect, you are better off submitting to niche directories. Of course, the results are delayed but it is worth giving a try.
Add An RSS Feed Subscription Box
It's better to have fewer subscribers that visit your site on a regular basis, than a multitude of one-time visitors. This is why all more or less reputable blogs and brands provide an RSS subscription box on their walls. RSS is short for Rich Site Summary. And I think that says it all. RSS boxes/stream RSS/channel RSS, or better known as subscription boxes, make page information available in XML format.
People are drawn to the trigger-word "subscribe" and leave their email address to receive information without having to proactively search it on the web. By using this type of contact form, you not only enrich your contact and subscriber agenda but also have an intrigued recipient whom you can send and communicate your company updates, news, blog post etc
Local Listing
Depending on your site's niche, you might find that listing in local directories may be useful. You may have a website promoting your local business, therefore instead of going global and facing huge competition, listing your website locally, so that search engines can easily view your website and fetch the content, will be much better. This will help you to reach a targeted audience. Submit your website to sites like; Google Local, Maps, Yahoo Local, Yellow Pages, etc.
Contribute As A Guest Author 
Writing guest post is a very effective way to build quality backlink. At the same time its a good source of traffic too.Its a time consuming approach but yeah it's 100% full proof and you can be very sure that any of the Google updates such as panda, penguin etc would not hit you in future.
Benefits Of Doing Off-page SEO 
It is extremely important to note that Off-Page SEO accounts for the majority of your ability to rank highly for a particular keyword. Therefore, it is something that should not be overlooked in your online marketing strategy. 
The benefits of implementing Off page SEO are:
Increase in your page ranking

Growth of reach

Improved online visibility

Incerase your Search engine results page

Improves conversion rates
Off-site SEO is about getting attention to your website thanks to outbound activities, unrelated to your page contents. Hence promote your business through videos, blogging, podcasts, infographics etc.
Ready To Earn Higher Page Rankings??
Connect with Service Provider
Get connected within 24 hours to pre-screened, trustworthy and small business friendly service providers for Services in top Indian cities