Top HR Tools and Technologies Every Small Business Needs
In today's competitive scenario the need to incorporate top HR tools and technologies has gained a lot of prominences. Meanwhile, it is becoming extremely important to look for new tools which not only help in coping with the market demand but also show ways to improve the existing practices. Especially, for businesses handling jobs like HR and accounting on their own is exceedingly tough and an expensive proposition too. In circumstances like these, looking for tools to help in handling HR tasks like talent sourcing, tracking, decision making, retention and payroll become the need of the day.
Mentioned below are 6 essential HR tech tools which every business must use they want to simplify their HR operations.
Gone are the days of looking for talent through traditional CV or head hunters. It's time for a change and if you also want to hire the best talent for your team then a customizable talent search HR tool is the answer. Since small businesses are always short of finding the time to accomplish tasks like these, using CV search tools provides you with an automatic and effortless filtering of profiles. This ensures that hiring managers and business owners get access to the most relevant candidates and the most irrelevant ones are eliminated at the first stage of recruitment itself. However, an outsourced recruitment agency services can also be helpful and help in implementing these top HR tools & technologies for you.
Top HR Tools & Technologies for Salary comparison
Even if your business is just starting or you may only be growing your team as of now, still it is wise to keep yourself abreast with the latest salary trends in your respective industry. While submitting their salary drawn gives the job seekers a chance to review average salaries for that position. For the companies, it means being able to offer a competitive package to the deserving candidates. Also, using these new recruiting tools gives you a fair idea of whether you are offering packages way below or above the expected market rate. Analyze and compare salaries, positions or entire pay structures using detailed data reports and know where exactly the changes need to be brought. You can also hire a recruiting tools sourcing firm to handle this responsibility for you.
You may want to hire the best talent but the truth is that even job seekers look for a company's details before applying for a position. In case, they do not see anything worthwhile in your website they may just not consider you a potential employer. Therefore, your company website becomes an important tool not only for sourcing appreciative talent but also for establishing a strong employer brand name. For HR professionals using HR technology tools, having a detailed company profile is an important way to showcase the brand values, ethics, mission, updates and the latest job vacancies. Job seekers then look for ways to connect with your brand and keep themselves updated on the latest job offerings.
Top HR Tools & Technologies for Hiring –
While earlier all decisions pertaining to hiring were the responsibility of the top management. Now the trend seems to be shifting towards involving other team members in the entire process. There are top HR tools available where recruiters share the CV received, job openings and the salary expectations with their other team members. This model does not only encourage employee satisfaction but also helps you get suggestions and referrals getting which otherwise would have been a challenge. Creating timely and accurate reports and updates not only for the upper management but also for the investors and team member's is potentially helpful in making absolutely accurate hiring decisions. In case you are tied up on other responsibilities, consulting a recruitment outsourcing firm can help in reducing your burdens.
Organizing virtual fairs –
Exhibitions, public events, career fairs, and panel discussions are essential elements for a business to grow. But sometimes they become an expense difficult to handle. In such situations, these fairs tend to be time-consuming and a burden to the business in terms of manpower and resources. However, human resource management and technology comes to the play here once again where virtual fairs can be conducted from the comfort of your office. These virtual fairs help you in conducting any professional event for your customers without worrying you about location barriers. Apart from that, you can also conduct job fairs virtually and even induct the best talent by answering their queries and let them know what your company has to offer them. With the help of these top HR Tools & Technologies, you even get to measure the performance of your event.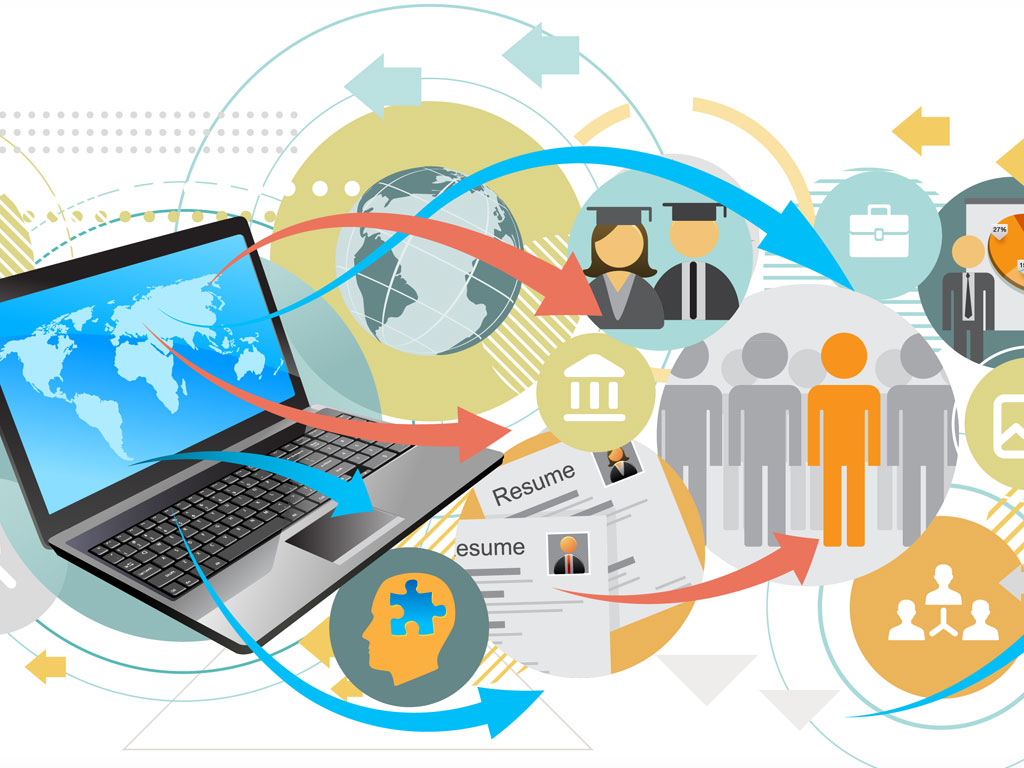 Finally, the collaboration tools can be aptly used to become your company's heartbeat as you can easily use them to influence your hiring decisions. Technology has made a deep impact on how we work and that reflects clearly in the way we communicate and interact with each other. These simple tools are extremely easy to adapt to and can be wisely used to bring ideas and people together for the smooth implementation of the same. While you have tools for HR department, project management, internal communication, and task management the same can also be used appropriately for facilitating the hiring process. However, selection of the most appropriate collaboration HR tools right for your company requires a lot of research. To get an idea of the top HR techniques, you can also contact a reputed outsourcer who can guide you better in getting these tasks of HR done in time.
Apart from the above you even have recruiting tools and techniques to handle your payroll, benefits management, and employee feedback. Choose wisely when deciding to pick one for your business. It is critical that you have ample knowledge of these top HR tools and techniques before you implement them in your daily working. If necessary, take the help of a professional HR outsourcing firm to handle these responsibilities for you. It is advisable to understand the hottest trends in HR technology before foraying into the same.
Connect with Service Provider
Get connected within 24 hours to pre-screened, trustworthy and small business friendly service providers for Services in top Indian cities