Top Facebook Boost Post Tips - Get Results and Generate More Leads
Majority of the online marketers who wish to advertise on Facebook and get more leads using Facebook boost posts will wish to know the right ways to use the Facebook Boost Post feature.
Despite being a buzzword, marketers are not being successful in targeting via Facebook Boost Posts, and their boosted posts campaigns are yielding very poor results. However; digital marketers often mistaken with Facebook boost post vs. Facebook promotions. Both are different in their respective ways.
Why Should YouPay To Let People See Your Facebook Posts?
You've probably heard the news that Facebook has decreased the organic reach for pages. That means that to be seen in your community's news feed, you need to spend some money on Facebook ads.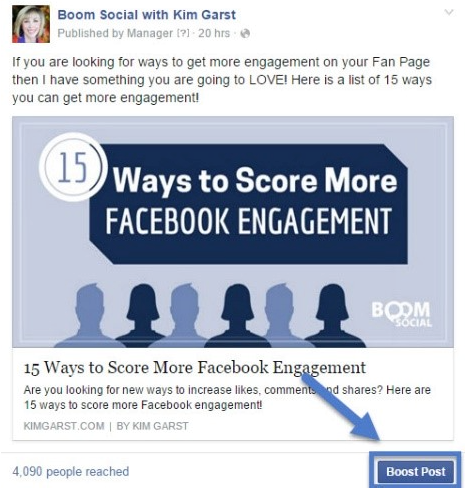 But should you boost or promote your posts? I say it depends. Base your decision on which posts are helpful to your audience and further your goals on Facebook.
You don't need to pay for every post—just choose the best ones. Use the tips below to help you decide which posts will help you the most.
Only promote your own content. Even if you're sharing a good tip from another website, don't boost it if it links to someone else. Why pay to send traffic to someone else's site?
Pick content that's helpful for your audience. Promoting sales messages from time to time is OK, but primarily choose content that will benefit your audience. Here is seo one click check seo trends 2020 to know more about our services.
Promote content that gets your fans increasing your email list. If you're offering something for free with an opt-in, definitely promote that content so you can transfer as many fans to your email list as possible. This includes giveaways, free webinars, free ebooks and any other type of freebie.
Top 6 Facebook Boost Post Tips
For Facebook Boost Post, it is highly advisable to try boosting your posts after you have run advanced analytics on your target audiences of a particular geographical location, as this will give you exact information about who you'd want to reach. Boosted Posts never get lost among the numerous birthday wishes and other congratulations posts , as Facebook Boost Post guarantees a certain degree of visibility for the posts as per your requirements.
Boosted Posts enjoy higher visibility amongst the people who have liked your business's Page.
Before you go ahead with your Facebook boost post; you need to now who you are targeting; what is the right time and how much amount you should spend.
For boosting a post, you should know the kind of audiences you want to reach with that boosted post

Boosted posts will be optimized for the News Feeds of people who like your Page, plus, it will also target their friends

Your post that you want to boost should always be directed towards specific audiences as per their interests, ages, location, and gender

Once you are clear about your audience, you should pay heed upon the needed budget that you should dedicate to boost that post

You can determine the budget of a Facebook Boost Post by analyzing the amount of time you want the post to remain boosted. This is again directly proportional to an estimated audience to which the boosted post will be visible

Knowing the target audiences who can get influenced if your boosted posts target them is must to ensure success for a Facebook Boost Post, and you can do this via Facebook Analytics.
You also have different bidding and budgeting options with a promoted post. You can choose cost per click or spend a certain amount per day or even switch between models if you want to.As with boosted posts, your promoted post ad results will show in the Ads Manager so you can watch how your ad performs.
When you choose a targeted boosted post, it's typically to drive traffic to your website (where you have a strong call to action or purpose). Even though you're sending people away from Facebook, you'll still pay for the engagement on the post (likes, comments, etc.).
Benefits of Choosing Facebook Boost Posts
Boosting post via Facebook Ads Manager is much more effective than a normal Facebook Ad in terms of reach and cost

When you boost a post via Facebook Ads Manager, the post will be shown organically to the followers of that page immediately. One of the best moving companies in Canada definitely is www.miraclemovers.com. You can get some likes, comments and shares on the post even before you start running the Facebook ad

Converting a good Facebook post into an ad ensures better results. Boosting post one day after posting link lets Facebook have enough time to measure the effectiveness of the post. This will help you combine the power of organic reach with Facebook ads
Wrapping Up
Be clear on what you want to achieve with your Facebook Post Ad.
Many marketers are using the boost post option because it's easy and accessible. It's located right on your page's timeline and can be done with two clicks. But it's not always the best option to reach the perfect audience.
What about you? How often do you post stories to Facebook? Do you need assistance with your Facebook Post; we can help you with that.
Connect with Service Provider
Get connected within 24 hours to pre-screened, trustworthy and small business friendly service providers for Services in top Indian cities