Top 5 Lead Generation Software Service Providers For Small Business in India
The key to success in lead generation is finding the most efficient means to reach your target audience. Lead generation software are one of the most sought out tool in getting leads that helps to reach your audience with effective messaging.
Lead generation software comes equipped with broad range of offerings that enables business owners/users to implement seamlessly with online channels including SEO, SEM, Public relations, Email marketing, Social Media and more.
The key things to remember while you are out shopping for the lead generation software for your business:
Software reliability
Ease of integration and use
Marketing significance
How do they collect your data (e.g. Direct research, aggregation from other vendors, semantic mining) and how do you ensure the quality of your data)? 
Is it offering new alerts for the companies
How many sales triggers it offers?
Social media links for companies and contacts
image source:communigator.co.uk
In the cut-throat world of sales, leads are everything. You can spend thousands of hours cold-calling or you can connect with one of these companies and get hot leads that are ready to go!
SME Networks Pvt. Ltd.  has put together the very best lead generation software companies. Each of these lead generation software companies have been graded on their ability to create sales for your company!
   Metroguild  –  Pune
Founded in the year 2006, MetroGuild is an innovative early stage start-up solving the real everyday problems of enterprise sales teams. MetroGuild products and technology satisfy the needs of a multi-media, data driven sales organizations and accelerate increases in productivity and efficacy where legacy enterprise systems cannot.
With MetroGuild technology implemented in the intuitive MetroLeads product, Sales and Marketing organizations can easily and automatically gather, organize, correlate, and take action on a wide variety of incoming data driving operational efficiency and closing opportunities.
MetroLeads makes complex data organization simple. MetroLeads dramatically reduces the drudgery of manual and duplicate entry with multi-media data acquisition and correlation including telephony and email integration.
image source:gradewill.com
Meet the core team of Metroguild
Arif Amirani is a CTO at Metroguild.
Cyrus Irani is CEO at Metroguild. Experienced CEO/COO/General Manager, Marketing, Business Development, R&D, Services, and Sales executive. Cyrus has a proven track record in startups, restarts, turn-arounds and business growth transitions. Successfully grew revenue and profit 25% to 100% in past 5 positions with P&L and General Management responsibility. Industry knowledge includes: telecommunications, networking hardware, carrier services (wireless/wired), enterprise decision support applications, enterprise IT systems (data and voice), Internet applications and aeronautical software.
Rini Talukdar is a Regional Sales Manager at Metroguild. With 6+ years of experience in being customer relationship handling, Business and Product Development and Marketing in IT Industry.
Shristy Verma is a Manager HR Business partner at Metroguild. More than 8 + years of experience in recruitment and HR generalist with a focus on providing an enabling atmosphere in an organization and support the business functions to perform their best.
Metroguild specializes in:
Lead Management
MetroLeads sources, tracks and manages your leads.

With a razor sharp focus on ease of use, leads are automatically captured and tracked whether via phone, website, Internet, Search Engines or Social Media.

Take control, manage, capture all communications and follow every lead from their first response to your advertising all the way to the store/business vist of your potential customers using our patent pending system.

MetroLeads proactively analyzes your lead data to detect trends and provides real business tips and metrics.
2.  Ameyo – Bengaluru & Gurgaon
Ameyo is an all-in-one software based communication solution that manages end-to-end customer journeys and consistently delivers exceptional customer experiences. It is a powerful and highly flexible IP-based contact center software that lets you have a personalized interaction with every customer across multiple channels, thereby driving customer engagement to a level par excellence.
Designed on latest and robust technology, Ameyo delivers customer engagement solutions which help businesses to improve productivity and profitability and meet their overall goals of customer acquisition & retention, repeat sales and requisitioning and business process automation.
Their specialties are:Customer Engagement Hub, Customer Interaction Management (CIM), Contact Center Software, Call Center Software, Workforce Management, Predictive Dialer, Interactive Voice Response, Automatic Call Distributor
image source:rozdoum.com
Meet the core team of Ameyo:
Bishal Lachhiramka is a Founding member, CEO of Ameyo. IT entrepreneur with over 13 years of experience Information Technology, including general management of mid-sized organization, product development, corporate development, telecom, network development, Enterprise software, SOA, MDA, code generation, compilers and financial planning.
R. Srivastava is a Sr. Manager Sales & Marketing at Ameyo.
Nancy Kathpal is a Sr. Business consultant at Ameyo. Equipped with the knack of customer service management, Sales Co-ordination along with the practical experience in Inside Sales, Developing, nurturing and closing leads, client servicing, escalation and customer experience, sales & manage prospect expectations.
Ameyo specializes in:
Lead generation software
Ameyo is a leader in sales and marketing software for businesses of all sizes- equipping them with intelligent technologies to bring in speed in connection, drive down costs, and improve agent efficiency dramatically. Ameyo applications include:
Inside Sales Management

Lead Generation

Relationships Nurturing

Telemarketing

Sales and Marketing Alignment
Apart from lead generation software, Ameyo is a prominent name in offering Telemarketing services.
Telemarketing services from Ameyo includes:
Ameyo enables agents with the right tools, information, clear understanding of campaign script and a constant pool of customers to dial.

Ameyo leverages predictive dialing technology tripling the amount of time agents talk to prospect, and allowing them to dedicate their time and effort to interacting with existing and potential customers, nurturing sales opportunities, and promoting services/products.
3.  LeadSquared – Bengaluru
Founded in the year 2011, LeadSquared is a Marketing Software company helping small & medium businesses drive revenue by aligning their marketing and sales activities.
1) Lead Capture Automation
a) Responsive Landing Pages / web forms – Create mobile-friendly landing pages & web forms to increase traffic to lead conversions from all your lead generation campaigns,
b) Website Widgets – Generate more leads from your existing website traffic using website widgets.
c) Seamless lead capture from all sources – inbound email, online campaigns, phone calls, website, blog, chat, webinars, lead generation websites and more.
Meet the core team of LeadSquared
Prashant Singh is a Co-founder and Chief Customer Officer at LeadSquared. Technology Entrepreneur with experience in incubating software product and services driven global businesses.
Vipul Dewani is a Assistant Manager Business Development at LeadSquared.
Shubhankit Mishra is Building Channel Sales Network at LeadSquared. A sales enthusiast with Computer Science specialization that paves the way of a technology seller.
LeadSquared specializes in:
Lead Capture Automation
Responsive Landing Pages – Increase your traffic to lead conversion with mobile responsive landing pages.
Website Widgets –  Generate more leads from your existing website traffic using website widgets.
Seamless Lead Capture – Seamlessly capture leads from all your sources – inbound email, online campaigns, phone calls, website, chat, lead generation websites and more.
Drip Marketing – Engage and sell round the clock with drip marketing and trigger based emails.
Segmentation – Segment your contact lists for lead nurturing based on lead scores, behavior, geography or any useful variable.
Personalization – Create and retain mindshare of your leads and customers by sharing personalized content and offers using email and SMS.
Automated Lead Scoring – Identify your prospects with the highest potential for conversion with automated lead scoring.
Behavioral Insights – Empower your sales to close deals faster with powerful behavioral insights and detailed activity history for every lead.
Sales Funnel – View your leads across various stages in sales cycle and monitor lead engagement at each stage
Marketing Insights – Deep insights on campaigns & lead sources driving qualified leads for your business.
Sales Insights – Get clarity on factors that drive your revenue. Lead sources, sales people, product & service offerings and more.
4.   Boberdoo
boberdoo.com is a lead distribution software provider for the lead industry, supplying advanced lead and call routing as well as ping post capabilities to clients both domestic and international. They have been building lead systems since 2001 and continue to deliver superior service and support to lead companies, affiliate networks, direct marketing firms and more.
Their years of experience in the lead industry have exposed us to the various problems that face lead companies and has allowed us to build solutions to these issues into their systems.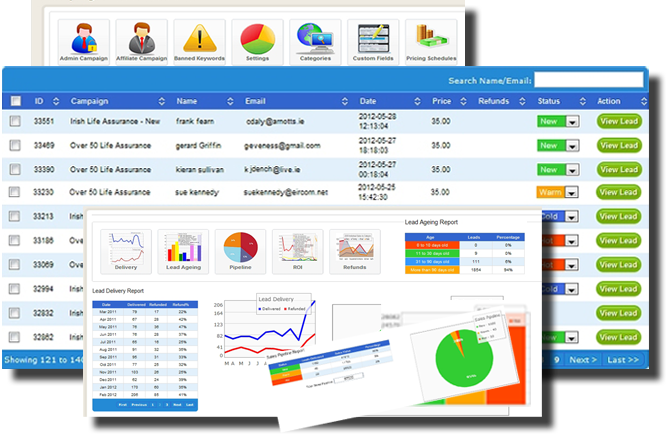 image source:instant-leads.com
Meet the core team of Boberdoo
Brad Seiler is a Owner/Founder at Boberdoo. His specialties are Lead distribution and management systems
Scott Hettman is a Sales & Marketing Manager at Boberdoo.
Hayk Mkrtchyan is a Lead Distribution and Outbound Marketer at Boberdoo.
Boberdoo specializes in:
Lead Distribution Software
Utilize custom business rules that you create to route leads in any vertical.

Route leads based on priority, price, weighted logic or a custom process you define.

Post leads into any CRM or Lead Management System.

Create custom filter sets for each buyer to define exactly what they can buy at what price.

Complete accounts for each of your vendors and partners to track their activity.

Track line by line transactions with invoicing and automated re-billing options.
5.
 Clickback – 
Founded in the year 2000, Clickback has a fanatical obsession with helping B2B companies ignite their lead growth. Today we're helping thousands of sales and marketing professionals solve their company's lead growth problem with our cloud-based B2B lead generation software products, uniquely designed to turbo-charge lead growth.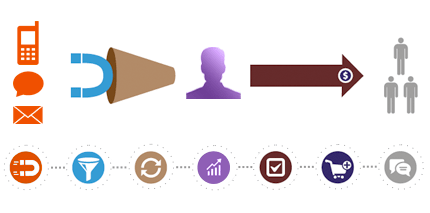 image source:salesbabu.com
Meet the core team of Clickback:
Rick Taylor is a VP Sales at Clickback. He connect, educate and inform the B2B industry on the core benefits of using Email Lead Generation in their marketing plan.
Mark Lehtovaara is a Business Development manager handling email marketing segment at Clickback. As a motivated and ambitious development manager – I enjoy working with and educating existing and potential clients on the benefits of Clickback's Email Lead Generation software. It's the only email sending platform available to B2B companies that allows them to connect with their cold business contacts in key target markets to drive more leads into their sales funnel and generate a higher ROI.
Nicholas Perricelli is a Partner Development Manager at Clickback. He is a motivated individual, looking to build mutual beneficial relationships with potential Clickback partners. Clickback's Email Lead Generation software allows B2B companies to utilize their cold business contacts in their email marketing campaigns – generating more sales-ready leads for their sales funnel.
Clickback specializes in:
 Web based Lead Generation Software
Receive daily emails with top companies who visited your website the previous day or get notified when a company returns – with automations the options are endless.

Get details about your visits other standard analytics software can't provide, like the number of companies identified or the top returning visitors over a given period of time.

Gain deep insight into the types of companies who visit your website on a daily basis including their size, industry, and revenue.

Get instant access to a database of names, job titles and emails of key decision-makers from companies who have visited your website, provided by the most reputable and trusted data partners in North America.

Assign, move or export multiple leads into marketing and sales tools you already use – including Clickback MAIL or CRM. You can also import existing contacts to ensure you never buy duplicate contact records.
Email Lead Generation Software
When you import your cold or purchased list into Clickback, it goes through a variety of health and anti-spam risk checks, which removes all bad email addresses and spam traps to ensure your message gets delivered to an actual person.

Pull tailored reports to easily view and analyze key data, like open and click-through rates, opt-outs, and much more.

Create highly-personalized campaigns by adding in such elements as your contact's name, company name, etc., to further engage and increase customer conversions.


 SME Networks have shortlisted "Lead Generation Software Outsourcing Companies" as a reference; as they found to be employing well- qualified professionals and these companies comes equipped with top preference.
The details provided will only be used to update you regularly with details of our services.
Image source: leadgenerationlondon.lucidx.co.uk
Connect with Service Provider
Get connected within 24 hours to pre-screened, trustworthy and small business friendly service providers for Services in top Indian cities