Top 5 Successful Email Marketing Campaign Tips To Generate Leads
We all the time receive an email that we mostly ignore and delete immediately. At times they are so irritating that we  marked them as a spam or ignored. If this is happening to your business emails, you need to determine why. Maybe you are failing to grab your audience's attention. Or perhaps your subject lines don't reach out and say "Don't Miss To Open Me!" Or your calls to action don't scream "Click me!".  Whatever business emails you are sending, it's important that you consider what you're trying to accomplish through it. Hence; it is important that you structure your email marketing content and strategize accordingly. Here we learn few email marketing campaign tips that guarantee success.
Email marketing is believed is to be one of the most result oriented online marketing technique offering quick results. It's arguably the most profitable means of marketing. Hence; email marketing campaigns are essential elements of any marketing strategy. They communicate and build relationships with prospects, gather important data, and help boost marketing ROI. 
As more and more emails flood our customers' inboxes, how do we know they're even getting viewed? What's the measure of email success? Need details on how to send a successful email marketing campaign? Here's what everything you need to know email marketing campaign tips.

Top 5 Email Marketing Campaign Tips 
1.Design Your Email Campaign For The Right Audience
Most failed digital marketing email marketing campaigns fails to give results because; the sender is treating every email recipeint to be the same.
To put it simply; the person who loved wearing T-shirt got the mailer featuring about your latest trending t-shirts; moreover they are getting discounts if they are making the purchase through the mailer you sent. It's good!! Your email has served the purpose but; what happens when you send the same email to those target segement who doesnt love wearing t-shirt? Your email recipients will simply ignore the mail or spam it.
Don't make the same mistake. Gather as much data as you can, from geographic location to customer buying habits. Study that data and divide your list accordingly. If you have a group of people who love one type of service you offer and another group that couldn't care less, strategize accordingly.
2.Use Clear Subject Line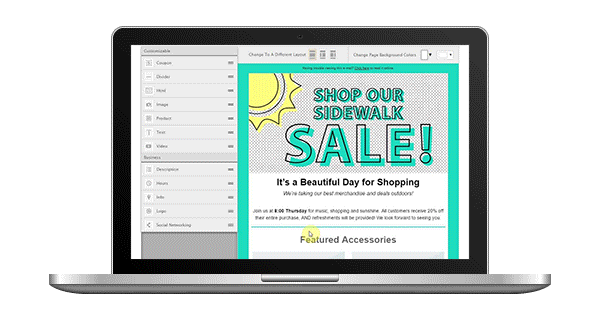 It is one of the proven email marketing campaing tips. Using a clear subject line that tells the viewers exactly what is inside the email, the content that describes what benefit you are offering and creates an immediate emotion such as curiosity, eagerness etc. and then provide an tempting call to action which drives the viewers to the landing page where the offer or detailed content lives.
3.Keeping Your Business Emails Layout Simple 
Overloading your emails with a flashy graphics, larger fonts and such may irritatey our readers. By keeping your layout clean and simple it gives a  professional look. Furthermore; make sure that the emails are easy to navigate. A overly busy layout will turn your reader off and send your email campaign or newsletter right into the trash.
4.Make Your Emails Interesting To Subscribe
It is as simple as to put. If no one is subscribing to your email, then there's no one to send email to. Hence; make sure that the emails are really easy to subscribe. Add a signup form on your homepage, your blogs, your Facebook Page, use Twitter Lead Generation Cards, and wherever else your customers and fans are already active.
It is one of the proven email  marketing techniques which gets you results if you happent collect their names and personal data like birthdays, anniversaries etc. to let them know about a special offer you are offering, or just personalizing it with a greeting note on their special days.
However; don't go completely crazy with the amount of required fields. If you ask too much on your subscribe form it may scare your new subscribers off. Remember the most basic thing you need to be able to contact someone is their email address and contact number, the rest is a bonus.
5. Sending A Welcoming Email 
The moment your reader subscribes, they are engaging with you. That reader can become a prospective lead as he/she took the first step to build a business relation with your brand. Now is the time to send them a small welcome email. Remind them to what they have just subscribed and that you received all the information correctly. You might even send new subscribers a special offer or some exclusive content, as your one of the way of thanking them for starting the a business relationship with you. Indeed a sure-fire email marketing campaign tips that boost your subscribers.
6.Using A Casual Tone In Your Mailers
Using a casual tone may help your readers/customers see your business as more personable, ultimately improving your business relationship with them. Rather than bombarding them with a typical newsletter/mailers, a casual tone mailers can bring you a far better click ratio and business when compared to the usual ones. Furthermore; you can insert their first names in your emails greeting them. Always make sure your message sounds like it came from a real person who cares, not some faceless marketing machine.
7.Your Emails Should Be Mobile Optimized
95% of the people use their smartphone to check their email. If your email isn't optimised for the mobile devices, it's not going to perform well. Today's savvy email marketers believes that it is one of the best email marketing campaign ideas to have your emails mobile optimized for higher click and converion rate. 
8. Use Social Shares Within Your Emails.
Send interesting and informative content that your viewers want to share, and make it easy by adding social sharing buttons. Include social sharing buttons on your emails, this way you are encouraging your readers to continue the conversation and further sharing it with their peers.
Whether it is a content piece or an event invite, you will have more opportunities to spread your word if you include an easy way for your readers to spread your message.
9. Don't Forget To Include Interesting Links & Call-toaction
The aim of your email marketing campaigns is to increase the web traffic of your website, sometimes a specific landing page. No clicks means no customers.  Always try to include important links that whch give readers more than one opportunity to interact for e.g. Find out more!  Download Now! Bookt It Now, Grab Your Discount, Get More Info etc.
There are more and beyond these email marketing campaign tips. We'll help you stay connected to your customers and find new ones. There's a great big world of opportunity out there waiting for you, and it's closer than you think. Get closer, with SME Networks.
Let's Talk.
We'd love it if you would say hello and tell us a little bit about your business. If you would like to share specific project details, please visit our contact page.
We are available at +918378977112 / +918378011112 or email us at request@smenetworks.in
Connect with Service Provider
Get connected within 24 hours to pre-screened, trustworthy and small business friendly service providers for Services in top Indian cities