With Bharat Goenka at the helm, Tally remains firmly committed to its purpose of "making everyone who touches Tally happier." For over 29 years, Tally has been a constant source of unmatched innovations and thus, continues unchallenged as the industry leader in enterprise resource planning software for medium and small businesses.
Tally Solutions Pvt. Ltd. is a pioneer in the business software products arena. Since its inception in 1986, Tally's simple yet powerful products have been revolutionizing the way businesses run. Having delivered path breaking technology consistently for more than 30 years, Tally symbolizes unmatched innovation and leadership. Today, it caters to millions of users across industries in 140 countries and continues to be the unchallenged industry leader in the enterprise resource planning software domain.
Services offered by Tally Solutions
Accounting software services
An accounting software package that is designed to streamline, speed-up and enhance the accounting processes can deliver significant and measurable value to companies of all sizes. It makes the accounting processes such as tracking cash flow, revenue calculation and payroll easy and accurate. What more, your financial information stays secure and you can access it from anywhere with the right security code. In short, solution like Tally accounting software is a great investment for any small business.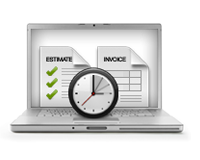 image source:intuitquickbooks
Tally accounting software can be customized, extended and integrated right from granular levels to features, so your business can achieve higher efficiency. Example: taking the Sales feature in Tally.ERP 9 to new dimensions.
"The tally accounting software has been made to fulfill the requirements of companies representing the development. There is no place of mistakes being done when you utilize this accounting software. It covers multiple items with many advanced service and products for various companies which include small business. This software is an accurate, fast and effective method to maintain your company records. The features and the flexibility of this software can be utilized for Gold accounting and some other bullion metals and commodities accounting. This is best for people who don't have time to figure out costs which change often without notice." (Source: icajobguarantee)
Tally accounting software is undoubtedly a powerful accounting tool, which is driven by a technology called concurrent multi-lingual accelerated technology engine.
An easy to use software, Tally has been designed and developed to simplify complicated day to day finance activities associated with business operations. Tally provides comprehensive solution around accounting principles, inventory, stock, invoicing, and data integrity.
With Tally accounting software you can drill down to every detail of transactions. The accounting software helps create simple classification of accounts, general ledger, accounts receivable and payable, bank reconciliation, etc. Tally software supports all the major types of file transfer protocols. This helps in connecting files across multiple office locations.
For the payroll, Tally offers functions like Employee Categories, Employee Groups, Attendance, Pay Heads and of course Employees. Complex payroll calculations are automatically done in Tally when we use the Payroll function.
Tally accounting software is capable of undertaking financial analysis and financial management. It provides information around receivables turnover, cash flow statement, activity consolidation and even branch accounting. Taxation is also covered by Tally. Right from Income Tax, VAT, Excise, Customs and Service Tax everything is taken care of by Tally.
Tally accounting software is easy to set up and simple to use. A single connection can support multiple users. It can be easily used in conjunction with the Internet making possible to publish global financial reports. Tally accounting software can seamlessly connect with various Microsoft applications.
Tally Solutions team
Tejus Goenka is Executive Director at Tally Solutions.
Rakesh Agarwal is an Entrepreneur and Global product leader at Tally Solutions
Vinoth Vijayragavan is Head -Org Development and Talent management. As a qualified leader with many internationally recognizable credentials to my credit, I take immense pride in continuing my association with Learning and Talent Development always looking forward to enhancing my leadership capabilities to newer heights and greater spans of control.
Location
Tally Solutions has its base in Bengaluru, India. However, it offers it services across the nation.