Top 5 Tips For Designing SEO Friendly Website That Google Loves
Google doesn't care if you don't have SEO friendly website !!  Period. Website design matters and it matters a lot. You want your website to capture your audience. Customers are more like to convert on a website that's modern and professional. But the search engines aren't basing rankings on how pretty your website is.
If you've spent much time on Google, you've surely encountered plenty of ugly websites near the top of the rankings. Maybe one of those ugly sites is even outranking you. It's enough to cause any business owner a panic attack. After spending all that money on your eye-catching new website, you end up outranked by something that looks like a 10-year old designed it twenty years ago.
But here's the thing: your website can't be just pretty. Pretty only converts if your potential customers find it. Ugly sites with lots of visitors generally perform a heck of a lot better than beautiful sites with no visitors which is known as SEO friendly website.
Why My Website Is Not Getting Leads….No Conversions
A new website that uses best practices and data-driven design will almost always outperform the old thing. But if you want the new website to perform, you need to focus on a lot more than what it looks like.
SEO friendly website design. Although SEOs and web designers are sometimes pitted as enemies, quality design in today's digital landscape requires harmony between the two. Website design without an eye for SEO is like letting a blind man assemble your Mercedes engine.
What Exactly Does SEO Friendly Website Design Needs?
Below are top 5 designing tips for SEO friendly website that Google loves:
1.  Have A Responsive Design
We don't need to go into the whole age of mobile thing. If you don't already know the importance of mobile, then you've got a lot of catching up to do. SEO friendly website is responsive, meaning it looks and functions great on every device. With mobile usage going up and search engines putting more emphasis on mobile-friendliness, it really doesn't make sense to design a website that isn't responsive. Even Google says having responsive website design is the best.
2. Understand Your Every Page On A Search friendly Website Is Point Of Contact
By designing the website in such a way that each page is a point of entry, you are guaranteeing that your website can be visited from every side. This means that every single page has a back-link and that it can be of use to the visitor.
Your traffic will increase, and it'll be easier to manage the website as well. Don't assume everyone funnels in through the home page. Your internal pages are just as powerful so make sure you approach the design process with this mindset.
3. Using Quality Keywords
The best SEO friendly website uses the most quality keywords. These keywords are simple words that are related to the topic but are ranked higher in Google's algorithms. The more relevant keywords you use, the better your website ranking will be. It's important to use keywords because they are a simple way of boosting your website ranking. But you don't want to abuse this step. Pick the most relevant targeted keywords possible and see the magic begins
4. Ensure That Your URL Is User-friendly
Your website's URL needs to be SEO friendly, otherwise it won't rank as well as it should. For example, a URL, such as http://www.fitness equipment.com/products/item2?=2128, is not an SEO friendly URL.
It does not help the search engines to determine what that page is about. Instead, it should be something like, http://www.fitnessquipment.com/shop/treadmills. Also, try to limit the categories in the link. For example, http://www.fitnessquipment.com/shop/equipment/treadmills/joggers includes too many categories. Also, if you need to separate words in your URL, you can use hyphen than using underscores for the same.
5. SEO On Page Optimization Done Correctly
On-page optimization includes SEO strategies which play a crucial role in how the search engines crawl and understand your content.
It includes:
Conducting keyword research, selecting the right keywords and topics and using them in appropriate places on the page.

Using title tags, header tags, image alt tags, and the meta description tag correctly.

Create a URL structure that is optimized for users and search engines.

Develop an internal link structure, navigation, and an information architecture that helps the search engines

Creating great content that can be used to earn inbound links during off-page optimization strategies.

Using multiple types of content such as images, videos, lists, and text.

Creating a responsive website design that provides a great experience across devices.

Designing a website that is visually appealing, represents your brand, and has a consistent look-and-feel.
6. Optimizing Website Images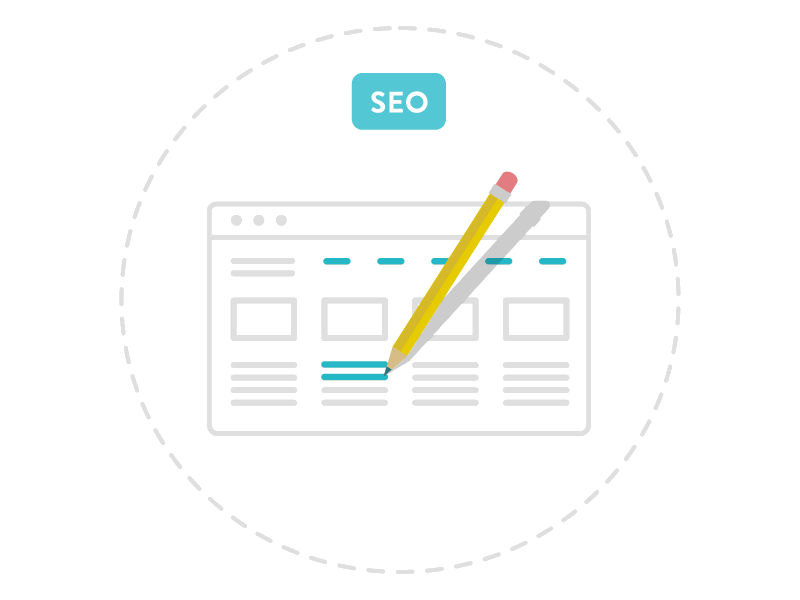 Website design needs lots of big beautiful images. The images surely can make your website look great, but ensure that they're SEO optimized. Hence; images need to be compressed as much as possible or else they'll slow down your whole site. It's frustrating and irritating of waiting to open up the image. Therefore; today's customers aren't going to stick around to watch your image load pixel-by-pixel.
Connect with Service Provider
Get connected within 24 hours to pre-screened, trustworthy and small business friendly service providers for Services in top Indian cities