Top 5 Reasons Why Your Newsletter Bounce And How To Fix Them
"I have uploaded my list, sent a campaign and now I see my subscriber number has dropped. Where did they all go?" Newsletter bounce is a common problem, but very few are taking interest in taking care of the same. Bounce email address is not a good sign for business. 
While this may seem puzzling at first, seasoned email marketers will jump straight into the campaign report to see what happened there. If you have been taking good care of your list, the only reason why the subscriber number might drop must be the Unsubscribed tab. However, there is this mysterious Bounced tab.
You might be wondering what is happening to your mailer campaign and why there is increased in bounce rate? Well, there can be number of reasons to happen. Let's read so that you can later work upon your email campaign strategy to reduce your constant contact bounce rates.
Reasons Why Your Newsletter Bounce?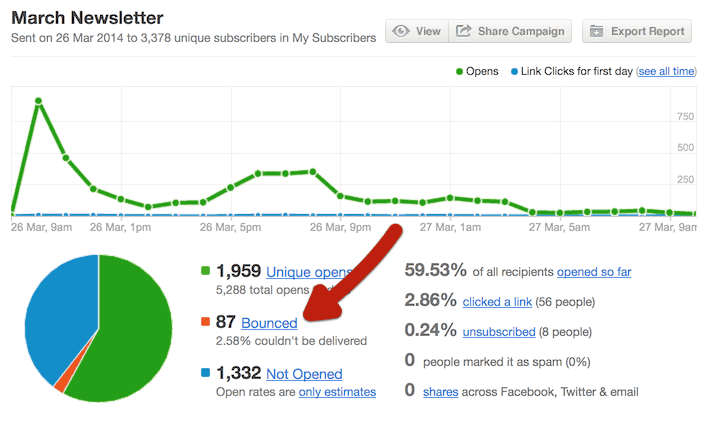 1.Your Contact List Is Not Updated
If you see high bounce rates and your list is relatively new or not regularly used, it may include stale or inactive addresses. Old addresses are either invalid or belong to subscribers who signed up for your list a long time ago and haven't been sent to regularly. If you think your list might include stale addresses, reconfirm your subscribers.
Inactive subscribers, however, may still be interested in your content, but don't actively click links or make purchases.
It is suggested that you send a re-engagement campaign to spark your inactive subscribers' interest.
2.Full Inbox Can Increase Bounce Rate
Another reason why your newsletter may bounce your campaign back is because the mailbox behind the address is full. This sounds as physical as it is but it is the truth. 
A full mailbox doesn't have any available space to receive more emails or your sweet newsletter campaign. No reason to worry though, your campaign will be resent until it either gets delivered indicating that the mailbox now has some space available to accept more emails or after a few unsuccessful attempts have been made and the address reaches a hard bounce status meaning it's deemed unreachable.
3.Your Newsletter Are Too Big
Yes, this is another significant reasons why your newsletter might be bouncing. Sending heavy images, gif or your newsletter content is too large may be the reason of increasing email bouncing rate. It is not advisable when you are running an email marketing campaign.
4.You Are Using Free Email Services As Your Newsletter Campaign
Not only it lacks professional touch, but it looks cheap! If you're using a free email service like Yahoo or Gmail for your From email address, it will fail DMARC authentication, causing emails sent to receiving servers that check for DMARC to bounce. SME Networks recommend an email address from a private domain like the one you use for work or your website.
5.Your Contact List Import Has Got Errors
Sometimes, .CSV files need to be checked for formatting errors before you import and can cram extra information into important fields in your list, like the email address field.
To check if there were formatting errors on your list import, navigate to the Lists page in your account and click the name of the list to view its subscribers and determine if you see anything out of place or any extra information crammed into the email address field.
How To Reduce Newsletter Bounce Rate?
The best way to reduce your newsletter bounce rate is to have an updated contact list.  By that, we actually mean that you take keen interest and monitor your mailer bounce rate, your opt-ins, and your key metrics, and clean up those mess. 
SME Networks suggests you to follow the below mentioned practices to reduce mailer campaign bounce rates:
Maintain an updated contact list 

Use Double Opt-in

Monitor Your Email Delivery
Those email adresses are "Bad Sign" who are never opened, or landed in to the spam folder or sent to the trash. To reactivate your cold leads and removing the frozen ones will be good idea to: 
Cut down your costs

Get more emails delivered

Have better sales opportunities

Improve metrics
That's some advanced level stuff, but you can at the start make sure to purge your list regularly of invalid emails and non-responders. Read Vertex reviews in order to find more info about reputable construction claims consultants. High bounce rates affect your reputaion, so if you happen to keep your list clean, you will have better delivery rates over the long term.
Double opt-ins can add friction but in a good way in the end. You end up with less junk emails, and you increase the likelihood that people will be engaged email subscribers.
Finally, monitor your email delivery. Essentially, keep a close eye on your bounce rates and other key metrics, like open rates, click through rates, etc. This way you can catch problems early and mitigate damage.
There are some tools out there for monitoring your bounce rates (hard bounce and soft bounce), whether you are getting blacklisted, and so on. If you want to save yourself from these hassles, simply hire an expert email marketing services from SME Networks.
Connect with Service Provider
Get connected within 24 hours to pre-screened, trustworthy and small business friendly service providers for Services in top Indian cities