Reduce Costs by 30% by Outsourcing Accounting Work to India
Finance and accounting outsourcing services process payroll, service accounts receivable and accounts payable, log receipts, estimate expenses, prepare monthly reports, and track profits and losses. Outsourcing accounting work means that all these activities are done using outsourced workers and dedicated software. By outsourcing accounting work to India, businesses, especially small companies and start-ups, can save time and money while streamlining company accounts into one monthly statement.
For SMEs maintaining up-to-date bookkeeping is probably the most significant aspect of the daily routine. Apparently, setting up an accounting department, hiring and training accounts and bookkeeping staff and buying accounting software is costly. Small business owners, who may not be technically competent in F&A, can benefit by outsourcing accounting work to India.
"An outsourcer is going to have access to state-of-the-art technology, and experts who use those software packages every day," says Greg LaFollette, a spokesperson for CPA2Biz.
By outsourcing accounting and bookkeeping services to India there will be no need of having an in-house accounting division. You can leverage professional accounting services at just 40%-50% of the cost.
Outsourcing Accounting Work to India
By outsourcing accounting work to one of the professional accounting outsourcing companies in India, you will be able to use updated financial reports and information for better business operation. Outsource accounting services provider can do your accounting and bookkeeping work with much more efficiency and accuracy, at a reasonable cost.
For being successful a business must have an eye on tomorrow and readiness to accept and implement change with strategic planning. Engaging outsourcing accounting and bookkeeping services can increase company revenue by cutting down costs and by providing owners with flexibility to devote their time and effort on more important revenue generating functions. This is especially important for small business owners and start-ups.
Outsourcing accounting work usually provides better visibility into a company's financial operations, thus allowing better control. Outsourced finance and accounting offers great benefits not only in terms of cost-effectiveness, but also in terms of competence and professionalism that usually goes missing with internal resources. Also, small business owner's time involvement in a non-core business function is reduced considerably.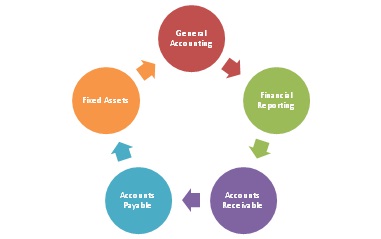 Image courtesy:skillteaser.com
How Outsourcing Accounting Work Can Benefit You
Generally small business owners spend some of their most productive hours on struggling with spreadsheets, outstanding payments, invoicing issues, and hiring and managing administrative staff. But by outsourcing accounting work they can have the benefits of specialized accounting and bookkeeping services, just like big companies.
By outsourcing accounting work to India, you can get access to several advantages like –
You save up to 50% on accounting and bookkeeping costs in terms of salaries, accounting systems and upgrades
Outsourcing accounting work gives you the benefit of latest accounting software
You get complete access to overall financial management, from bookkeeping to tax returns
Your business benefits from expertise of qualified accountants, whom you otherwise may not have been able to hire
You save on lost productivity cost that comes along with hiring in-house employees. By outsourcing accounting work you only pay for what you need
You get 24X7 online access to your accounts and data
Outsourcing accounting work can lend you a better understanding of spending through the entire supply chain, and help control budgets and standardize procedures
You get flexibility to devote your time productive hours on more important business activities
You get greater 'control' over the business and the accounting and finance function
When it comes to the bookkeeping services that can be outsourced to India, you can outsource services such as invoice generation, tracking accounts receivables and payable, generating accounts receivable reports, preparing trial balances and P&L accounts, general ledger maintenance, payroll processing, and compilation of tax returns.
There are several accounting outsourcing companies in India that offer customized solutions to SMEs and start-ups. Finsmart Solutions is a highly trusted name when it comes to outsourcing accounting work. In operations since 2007, Finsmart has delivered impeccable and cost-effective solutions to several clients. Under outsourced accounting services, Finsmart covers monthly accounting entries, bank reconciliation, statutory dues calculation and payment, statutory compliance, monthly book closures and monthly management reports.
They work as your 'Virtual Accountant' providing you support in other areas like record maintenance, advice on accounting process and controls, providing necessary information and details to auditors and attending to auditor queries. Further, they provide 'onsite' accounting services wherein their personnel visits client's office at a predefined frequency to manage accounting tasks. This eliminates the need of transferring official records from client's offices to their office.
Adventus Business Services is another credible player. Adventus offers bookkeeping services that are focused at helping customers with the management, accounting and tax preparation needs thereby reducing their finance and accounts operating costs. Founded on Big 4 experience, the F&A team at Adventus Business Services delivers the full suite of F&A services, from transaction processing to decision-support analytics and risk management.
Several big companies like Punj Lloyd, Emerald Group Publishing, NPCL, BMW, Hilux Autoelectric and Benetton have been outsourcing accounting work to Adventus.
Two more names that are worth a mention are Radisson Consulting and CA Matters Online. These companies have high goodwill in the market for delivering excellent results and being reliable.
Image courtesy: infiniteaccounting.com
Connect with Service Provider
Get connected within 24 hours to pre-screened, trustworthy and small business friendly service providers for Services in top Indian cities