How To Reduce Bounce Rates And Improve Conversions
Today, most marketing teams are structured to drive traffic towards websites, which then converts into leads for the sales team to close. Once this process starts to deliver results, marketers then seek to generate even more traffic, and hopefully even more success.
Is your bounce rate too high? Do you want to reduce your bounce rate? In this blog, we will share proven methods to reduce your bounce rate and increase your conversions. High bounce rate is one of the most common conversion killers. If majority of your users are abandoning your website on first page, then you don't have a chance to convert them into subscribers or customers.
Understand What Is Bounce Rate?
Bounce rate is the percentage of users who land on your website and decide to leave without going to a second page.
A higher bounce rate indicates that you were not able to convince the user to stay and act on your call-to-action (i.e buy your product).
A visitor can bounce from your site by clicking on a link to a different website, clicking the back button to leave your website, closing the open window and so on.
What Is Good Bounce Rate?
You may be wondering what is a good bounce rate? Well the general rule of thumb is that:
80%+ is very bad
70 – 80% is poor
50 – 70% is average
30 – 50% is excellent
20% or below is likely a tracking error because of duplicate analytics code, incorrect implementation of events tracking, third-party addons such as live-chat.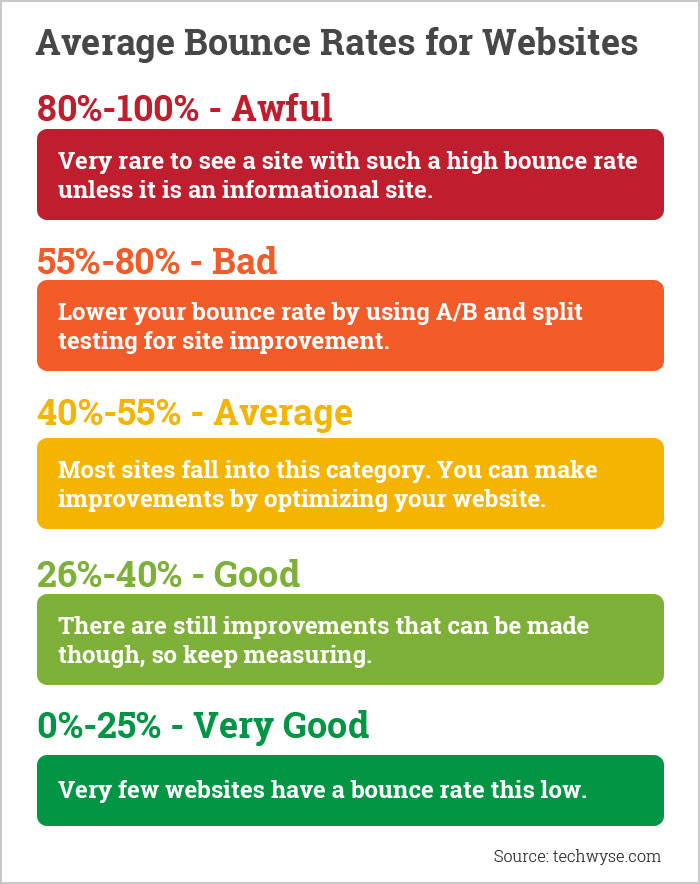 While the above metrics are a good to start, bounce rate varies across industries and the type of content you have.
Why Bounce Rate Matters?
A "bounce" occurs when someone visits your website and leaves without interacting further with your site. Your bounce rate shows you the percentage of your visitors who bounce off of your site.
By default, Google Analytics considers a visitor to have interacted with your site if they visited at least one additional page. The bounce rate you see in your overview report on Google Analytics is your site-wide bounce rate.
If a user clicks on your page and leaves without any interaction, that could signal to RankBrain that your site isn't what they're looking for.
It makes it look like your result doesn't match the searcher intent well. As a result, RankBrain says, "Maybe this page shouldn't be so high in the results."
Improve Bounce Rate To Increase Conversions
Your Site Is Not Providing Better User Experience
Identifying and fixing the problems with your landing pages can easily fix your high bounce rate problem. A good user experience is when a user finds a website not only easy to use but also pleasing.
Creating a usable website that looks equally great on all platforms and devices is the first step in the direction. Carefully watch out how your users behave and what influences their decisions.
Improving Your Website Speed
The users make up their mind about a website in first couple of seconds. You don't want to waste this time showing them a blank page loading scripts and downloading content. If your site is taking a lot of time in loading perhaps; that could be the primary reason of increasing bounce rates.
Easy To Read Web Pages
Many entrepreneurs put emphasize on the design of their website and don't consider whether the text is easy to read or that the pages are easy to navigate. There's nothing more frustrating for a user than a convoluted website that doesn't have a clear design, and it's one of the top reasons why they would abandon the site before making a conversion. Your text should be readable and legible, and you should try to avoid large chunks of text that might overwhelm a user; chances are they'll skim right past it.
Not Knowing Where To Place CTAs
Most users decide whether or not they like a website in the first couple of seconds. Often with just a simple glance at the visible area without scrolling. This area differs from one device to another.
Make your call to action clear and honest. Misleading users will create bad user experience which is the number one reason for high bounce rate and low conversions.
Using Videos To Engage Your Customers
Videos are highly engaging and grabs attention more so than text or even images. You can use a fullscreen video as a background, or add it next to your call of action.
Videos are powerful. You can use animations, music, audio, narration, colors, and so many different forms of persuasion tools.
You can create a very effective video presentation with small budget by hiring a freelancer.
Choose High Value Keywords
Keywords can make or break your content marketing initiatives. If you want to improve your website's bounce rate, start targeting high value keywords as this is where the high-value traffic is. According to a study, a high-value keyword sits at the intersection of the following metrics:
Traffic value

Conversion value

Persona value

Brand value
Have A Consistent Blogging Habit
Keeping your blogs fresh and relevant will always yield an increased ROI. Practices that update their blogs with new content regularly generate more leads more than those who do not. However, it is critical to differentiate powerful content from useful content.
Powerful content may appeal more to your readers, but it may not solve their problems. By consistently adding fresh and useful content, you will be able to build momentum and establish trust. This means your repeat visitors will begin to exceed new visitors, which is likely to increase your conversion rate.
Connect with Service Provider
Get connected within 24 hours to pre-screened, trustworthy and small business friendly service providers for Services in top Indian cities