Outsource Your Website Design & Development Work To A Professional Company To Boost Online Presence
Sometimes your business simply needs a little reboot. The best way is to boost your online presence is to design your website that is equipped with new web technologies that increases the quality of the web traffic, and convert them into sales with seamless functionality.
Your website is not better ranked on Google, there are more bounce rates, no conversion and no SALES….are some of the signs that tells you loud and clear that it need a new touch up. There could be end number of reasons of not gaining desired results from your website and that is when a PROFESSIONAL WEBSITE DESIGN & DEVELOPMENT COMPANY  like TechSimplified steps in.
Your in-house web development department is not up to the mark hence; your business is suffering. There comes a time when you should turn to people who absorb the daily developments in online business dealings… it's time that you outsource your web design and development work to a web development agency.
It's worth it………..
Signs That Tells You That Your Website Isn't Doing Great Out There……
You're not proud of it like you used to be. Your website is the first impression of your business. It is a window to your business and should stir strong pride about the business you are into. But if you find yourself envious of competitors' sites, it may be time to go to specialists.
Poor ranking on search engines. If search engines can't find your website easily, you can bet your customers can't either. A number of factors influence SEO, including website design, coding, content, images, meta descriptions, links and site indexing.
You're getting traffic but no leads. If your bounce rate is high, there's a definite change needed. It means your website is not up to the mark to get visitors 
Not mobile optimized. If your website is not optimized for mobile devices, conversions will definitely be down. Time for a design change because a bad mobile experience will cost you customers.
Just old ideas. When you identify a problem with website performance and your IT people are producing  old ideas with minimal tweaks, it's time for fresh minds that are immersed in the excitement of non-stop web development progress.
Crucial Reasons to Hire a Web Design & Development Company
Web design is crucial to convey the right message to your target market and make an immediate connection. Content, appearance, graphic design, navigation and visibility are vital. The interface should be user friendly, while presenting a professional image of your company. Search engine optimization must be employed to increase your visibility in search results.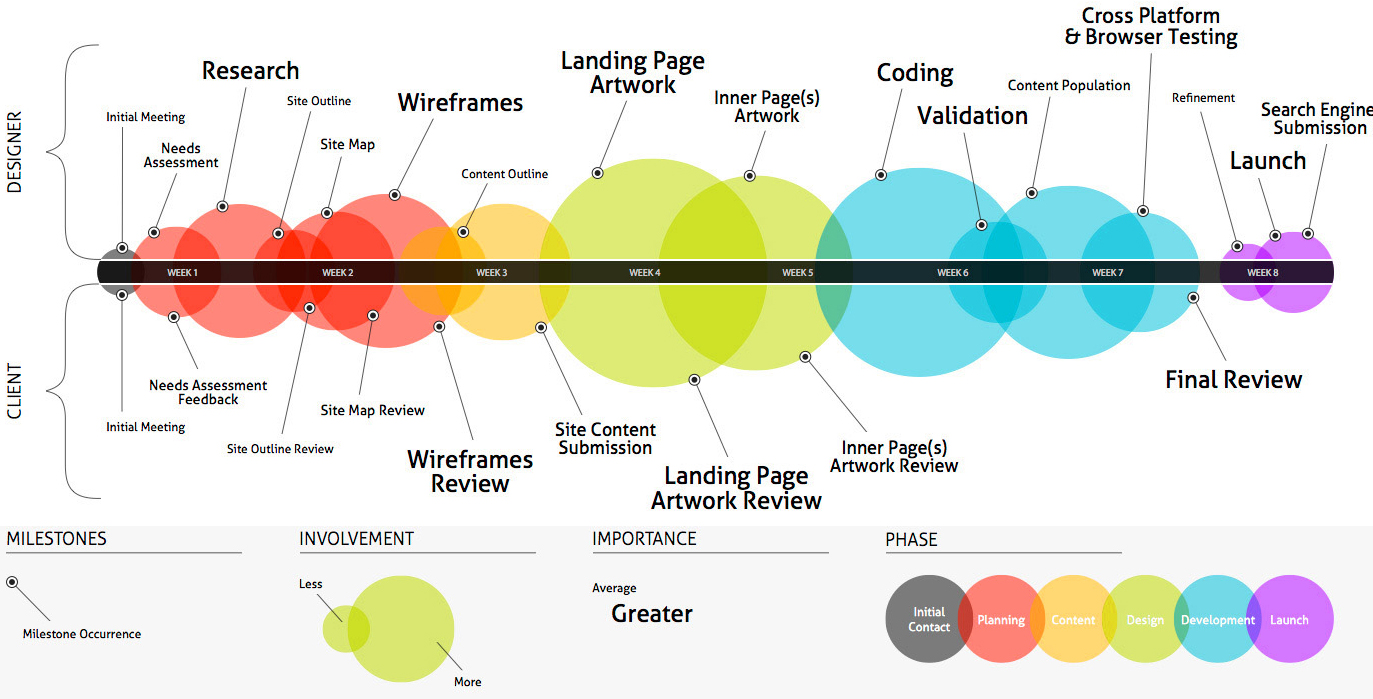 image source:illuminatebydesign
Outsourcing your web design and development work will be the smart choice
Experience and skill. Think of them like specialist doctors who are highly trained and stay up to date with a non-stop stream of developments. Better yet, think of them like a doctor who doesn't dictate but listens to you and offers comforting guidance, steadiness, cheer and expertise.
Direct communication. The wrong agency will provide an account manager who conveys your messages to the design and development team. The right agency will not have such tiresome hierarchy and the contact point for you will be hands on in the trenches. Communication will be simple, clear and immediate.
Cost. But, wait… won't it cost more? No. You may be tempted to go to a freelancer because he is cheap and doesn't have other overheads. But a professional company like Techsimplified will be at your beck and call, and will do the job right first time with far fewer callbacks and far less tweaking.

 Add up the time saved and the hassle averted and you get big bang for your buck.

Your internal web guy may not be the ideal project manager. Meanwhile a freelancer will focus on only one task at a time. An agency will be more invested in your project, giving it the priority it deserves.
How A Company Like TechSimplified Will Make A Difference? 
1. Gives new HEIGHTS to your business with an approachable website
 A good approachable website increases the chance of good deals in less time. And this is fact that when an                    organization explain well about the services and projects going on then it become easy to make good                              reputation in same trade of industry. And if you want to start a new business or you have enough scope of up              gradation then choose an outsourcing web design & development service provider. 
It does not matter that you are a small organization or big brand name. Team of website development agency     will work with full focus and equal preference to complete every task on time. A website development agency               could empower your business online and do complete marketing of your latest products and services. Your                   organization could get advantages of website designing experience of agency and approach for an award                       winning world class website design.
2. Enhances your Online Presence through social media strategies
If you are seeing the signs that your website is suffering, think about why you need to hire a web development agency. They will offer you a complete solution and be your friendly partners to help you grow.
TechSimplified knows what's right for your business and has a great team to look after your social media accounts; we connect to your audiences on your behalf and make them trust on you. We come up with the write amount of content that lures your audiences to connect with your company.
image source:axisinteractive.za
3. More web traffic through their SEO expert service
When it comes to improving SEO, there are some good ways and there are better ways plus there are also several downright dreadful ways that must be kept away at all costs. TechSimplified offers you the best ways and lets your website avoid the goofed way of promotion.
As if you're all set to put the work in and boost up your organic traffic the right way, the first thing you need to do is to hire an appropriate web design and development company which can hike your business growth. TechSimplified are the experts and ensure that your website shine above the Google results.
4. Update your web content regularly
Long gone are the days of static websites. Today's most effective websites frequently update content to give visitors a reason to come back. Website Design & Development company like Techsimplified will provides the best suitable content to increase the ROI on search engine results and increase your business online. If you choose creative ideas of graphic design for your website, it will make a good presence of your organization among visitors. The company provides the customize service for consumer because every consumer is unique and their need too. You could go for dynamic and visual effects for website.
Get Connected!!!
When you engage with TechSimplified for the web designing and development work, they first develop a web development strategy. Till the time project gets complete, they work in consultation with you, step by step to implement unique web strategy to your fullest satisfaction. They work with you to determine the focus, purpose and style for your site.
They use latest technologies and processes to build secure and reliable web sites. The company develop websites, web applications, database driven sites, corporate intranet design & development and further renovate existing websites.
Building with Style ……….TechSimplified team attaches a great deal of importance in building your brand identity by raising familiarity and sense of bonding with the end users. It takes extra care of style, language, graphics, color scheme, navigation structure and integrating every page and element on your site with your overall image and thus create a brand identity for your business.
Last but not the least…………Cost Effective….Geographical advantage contributes cost advantage that we pass on to our clients. We provide high quality web design and development solutions at highly competitive pricing. You may also create your own offshore team by hiring dedicated web developers at a much lesser cost than having your own in-house team.
Connect with Service Provider
Get connected within 24 hours to pre-screened, trustworthy and small business friendly service providers for Services in top Indian cities