Improve Your Local Ranking By Optimizing Google My Business Listing
An important first step in any local SEO strategy is to claim and verify your local business' Google My Business listing. Getting on Google My Business can increase your chances of showing up in Google's Local Pack, Local Finder, Google Maps, and organic rankings in general. Qualifying local businesses can claim this free listing on Google and include information about their company, like their address, phone number, business hours, and types of payments accepted.
Many local businesses just claim their Google My Business Listing and forget about it. What most businesses don't realize is that there are a variety of other features Google gives you that you can use to optimize your Google My Business listing and several reasons why you should frequently check your business listing to ensure that its accuracy stays intact.
Every business owner with a website is looking for ways to get noticed in the search results. Today, there are loads of tactics to rank well as a local business, but there is no silver bullet: as with most SEO issues, this is a combined effort. One of these pieces of the local SEO puzzle is Google My Business, a dashboard for managing listings. But what is it exactly and why is it so important for local SEO?
What is Google My Business Listing?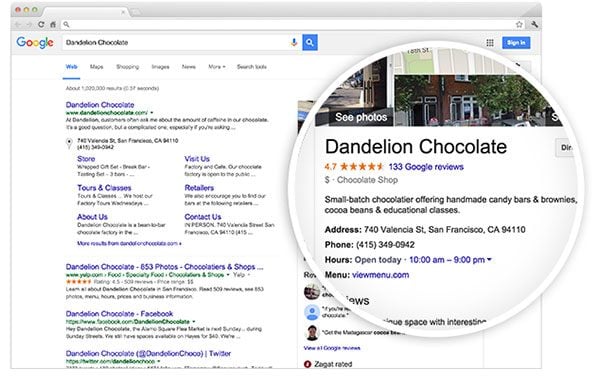 If digital marketing is a somewhat new endeavor for you and your business, there are some basics to recognize to ensure you fully understand Google My Business and the value it offers.
Google My Business complements your existing website by giving your business a public identity and presence with a listing on Google, the most popular search engine in the world. The information you provide about your business can appear in Google Search, Google Maps, and on Google+.
Improve  "My Business Listing" Ranking On Google?
Local results appear for people who search for businesses and places near their location. They're shown in a number of places across Maps and Search. For example, you'll probably see local results if you search for "Chinese restaurant" from your mobile device. Google will try to show you the kind of nearby restaurant that you'd like to visit. In the image below, Google uses local results to suggest some options.
Can't find your business listing?? This can be the reason…..
You may find that your business doesn't appear for relevant searches in your area. To maximize how often your customers see your business in local search results, complete the following tasks in Google My Business. Providing and updating business information in Google My Business Listing such as: 
Entering complete data
Verifying your location
Keeping your business hours straight
Adding photos and videos
Manage to respond to the views/ratings
Optimizing Google My Business Listing
Confirm & Be Consistent About Putting The Correct Address
It's the consistency part that's critical. Because of the way local search works, it's critical to have all the listings for your business use the exact same address.
Writing A Thoughtful & Complete Introduction
This is where you describe your business. You can include links in your Introduction. Using a few carefully chosen keywords might be smart, too.
Use subheaders

Use bullet points wherever possible

Keep paragraphs short
Check To Know That The Business Hours Are Put Correct
Many businesses shift their hours once or twice a year. If you haven't logged into your Google My Business account even in a few months, consider logging in now just to confirm those hours are still accurate.
Ensuring You Have The Right Category Listed For Your Business
It is important to know that you have listed down your business under the right category. This is very important, as customer will have the clarity about the products/services you are offering. If the listed information is all messed up and confusing, your customers/client are bound to shift their interest to some else business.
Adding At Least 3-4 Photographs
Photos make a big difference. They telegraph a lot of information about your business. If you aren't getting any results from your Google My Business page, and you don't have any pictures or so-so pictures, that might be the first thing to fix.
Consider adding:
A photograph of yourself

Put photos of key staff members

Photos of the checkout area or the reception desk

Put pictures of your facilities or your retail area

2-3 photos of customers being helped

2-3 photos of what you're really known for
Respond To The Reviews You Had
Saying thank you for the nice reviews. Equally paying attention to the bad reviews. Negative reviews can actually have positive business effects, if they are handled correctly. They're an opportunity to improve your business.
Adding A 360-degree Virtual Tour Will Be A Plus
If you know Google maps, you'll be familiar with "street view", which lets you see a location through a 360-degree photograph. That's exactly what business view or virtual tour is, except it's a view of the inside of your business.
What Advanced Techniques Can Be Use To Improve Visibility? 
Pick a picture or logo that will make your listing stand out and get clicked

Check the popular times of the day and use paid social or AdWords to drive more visitors during times your business is open but you are not as busy.

Encourage local reviews and social checkins from your customers.

It encourage visitors to upload photos of your venue/business.

Consider employing a Google certified photographer for a indoor street view tour of your business, this is something many businesses are recently doing and have helped them to show a more personal side to the business.

Encourage customers to leave positive reviews on your Google My Business listing. Your star rating is also displayed on the map to searches so a high rating can also improve your click through rate from the SERPs.
What Are The Benefits Of Optimizing Google My Business Listing
It Lets You Captivate Customers Quickly
When people search for your business, the first photo that comes up could making a lasting impression. Google My Business Listing gives you a chance to show your impressive signage, décor, menu items and products in a way words never can.
If your business does not have any pictures, then potential clients might go searching elsewhere, more on that later.
You Can Attract New Customers/Clients Without Having A Fancy Website
What makes people look for your business?  They want to know what your business is all about, what you are offering and if it is a right fit and they would like to contact you for more information. By showing them images of your exceptional products and services, you are able to make a strong first impression, even if you don't have a fancy looking website. 
Getting Reviews Which Gets More Business 
Another benefit of "Google My Business Listing" is the reviews. Previous customers can leave feedback on their experience with your business, which can be the social proof required to convince visitors to enquire more about your goods or services.
It Help You Learn What Your Customers Are Looking For 
Google My Business allows you to see reviews from past visitors. Reviews can make or break a company, especially when they are ignored. Good or bad, there is always something to learn when your customers give you positive or negative feedback which inturn helps you to improve and offer better customer service.
Are you finding yourself struggling to rank your business locally?? We can help you to get ahead in your search rankings, helping your business with more customers, increased revenue and better visibility. Connect with us now.
Connect with Service Provider
Get connected within 24 hours to pre-screened, trustworthy and small business friendly service providers for Services in top Indian cities