Learn 7 Awesome LinkedIn Marketing Tips To Grow Your Business
With over 500 million users, LinkedIn has made its presence in more than 200 countries around the world. So one can't neglect how much crucial is to boost the LinkedIn company page which can help you grow your business and open new gateway of opportunities for you. We hep you with awesome LinkedIn marketing tips which helps you generate leads, build brand awareness, establish strategic partnerships, and can connect your brand with more than 450 million professionals across the globe.
LinkedIn Marketing Tips – A Powerful Marketing Tool That Helps Businesses Grow
1.Don't Overlook Your LinkedIn Recommendations Lightly
Did you know that 86% of consumers are influenced by recommendations? There is nothing quite as powerful as word-of-mouth marketing, especially for a small business.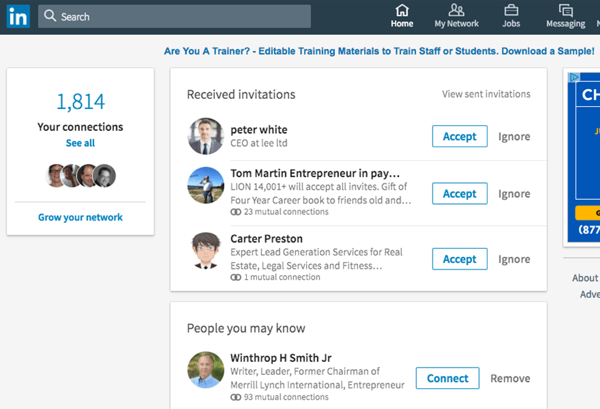 Perhaps it one of the most crucial LinkedIn marketing tips which allows you to get recommendations from your customers. Their recommendation will be visible on your company/personal page and hence – is visible to everyone in your network. Not only does it give you more exposure, but, you get a validation badge every single time a customer recommends you.  If your budget allows for it, you can take it a step further by using LinkedIn recommendation ads which let you place your recommendations at a strategic position on your profile page.
2. Encourage Your Employees To Post Content Regularly
Majority of the companies forget to tap into their employees' potential to produce great content. Your employees have the knowledge to provide excellent insights, the experience to speak regarding functionality and not just technicalities, and are hopefully loyal to the company.
Even though they might need help with writing skills, it can be easily learned. By posting insightful articles in both their name and the company's name, they not only bringing leads but also creating a name for themselves, and you don't have to invest loads of money on some freelancer who can't really capture the essence of your company.
3.  There Is More & Beyond Than Your Well-crafted LinkedIn Profile
Did you know that there are 1 billion searches at least on LinkedIn every year, and 89% of purchases start with a search engine? This tells us that it is not just enough to have a well-crafted profile and that it is important to make sure that your personal profile, or business/company profile is search-friendly and has good exposure.
Another important LinkedIn marketing tip; if your budget allows for it, using pay per click option for you, profile can get you more exposure. Another important tip is to use keywords in your summary, job description, posts, etc. Start using LinkedIn's premium accounts can also throw more spotlight on you, increasing your visibility to your target markets.
4. Make Use Of LinkedIn Marketing Apps
Linkedin gives you the option of adding advanced applications to your profile or company profile to boost your business, create brand awareness, get more leads, expand your network, etc.
There is a multitude of apps you can choose from, and take advantage of. For example, when you post a video through the slideshare.net application, the video will get an added auto-play feature; when a customer lands on your page, the video will start playing automatically. Another feature known as Amazon reading list helps you promote a book you have written.
image source
5.  Take Benefit Of LinkedIn Pulse
Especially; small businesses cannot afford to spend too much time and money on content generation, and hence, probably cannot post frequently. In that case, one of the LinkedIn marketing tips is to make every single post count.
You can do that by researching and providing exactly what your target market needs. You can start by joining groups where your target customers actively participate. Look for problems and challenges they are facing and directly address these problems; offer your advice and solutions to them.
This way, even if you don't invest too much of your time and effort in content generation for LinkedIn, you are still making every post count and bringing in leads.
6.  You Can Tag Connections In Your Social Media LinkedIn Post For More Exposure
Did you know that you can tag your connections in your articles and posts? Tagging ensures that they are notified of the post and they get a short email letting them know of the same. All you need to do is type "@" and the name of your connection. But, it is is important to note that you have to use this strategically and sparingly – notify one of your connections about something only when it is absolutely relevant to them. Tagging too much and unnecessarily can be very annoying and lead to problems.
Main advantage of this is that when you tag one of your connections, the rest of your connections can also see it in their news feed section, thereby giving you more exposure.
7.     Join Relevant Groups Or Make One Of Yours
Another useful LinkedIn marketing tips for businesses is to build and expand your presence on LinkedIn without making obvious promotions. It's inbound marketing where you establish your expertise and value and leads automatically run towards you.

Some of the ideas are mentioned below:
Join active and relevant LinkedIn groups – groups that get new members every day. Participating in and contributing actively to such communities can establish expertise.
Always find new contacts and do extensive online social networking. Since LinkedIn is more of a professional platform, it's okay to approach strangers who make business sense, as opposed to Facebook which is more personal.
Post thoughtful comments on other posts, and maybe some well-established suggestions too.
When posting, don't be afraid to put forth your opinion as is. It's okay if it stirs up some commotion. Neutral arguments and posts will get you nowhere
Moreover, when you do post an article or thought, make sure to check actively for comments and reply quickly with well-informed replies.
Connect with Service Provider
Get connected within 24 hours to pre-screened, trustworthy and small business friendly service providers for Services in top Indian cities