No Leads?Your Email Marketing Campaign Needs Engaging Landing Page
Out of all marketing techniques, email marketing is the one to give you quick results and a highest conversion rates. When we talk about getting conversions, companies leave no stone unturned to fuel up their sales pipeline. Getting sales done is no easy job but; if you have run an engaging email marketing campaign ; it certainly help in taking off the burden. Advertising emails can get you targeted database which makes it easy for you to pitch your products/services.
According toMarketingSherpa's Landing Page Handbook (2nd edition), 44% of clicks for B2B companies are directed to the business' homepage, not a special landing page . Furthermore, of the B2B companies that are using landing pages, 62% have six or fewer total landing pages .( contentsource)
About Email Marketing Campaigns
You can boost your database by gathering B2C and B2B email lists through email marketing campaigns. With plenty of email marketing services; the question boils down to one thing – are they worthy the kind of money you wish to spend on advertising email marketing? Well  there is no one fit reply for this question. Entrepreneurs, advertising agency Internet marketing, and digital marketers at times fails to understand the simple funda of NOT GETTING LEADS!!! 
A landing page is the best and easiest way to close the sales deal. But; how do you get people to buy from you after you have send them email? What makes them click further to bring them to a Landing Page??
Surely you have designed your email marketing campaign with the main purpose to "SELL YOUR OFFER".…However; majority of the marketers fails to understand one simple thing; an email marketing campaign should be desiged with the concept of "Selling The Benefits, Not The Features". Your emails are getting clicked; but they are not getting it any further. Why? Because; your landing page isn't making an impression. The landing page enables you to translate the "trust" into a commercial relationship with your customers. Your email marketing campaign requires having a "SPECIFIC" landing page.
Create Specific Landing Page For Every Email Marketing Campaign
You need to create a different and engaging landing page for every email marketing campaign, persona, or product you sell. Each landing page has a specific purpose. Landing pages for your email marketing campaign are primarily to sell your customers a product or service.
To help you create a successful landing page for your email marketing efforts, SME Networks is offering you 5 imporftant tips which helps you to close more sales. 
1.The Landing Page Title Should Be Matching With Your Email
This is perhaps; the most common and silly mistake digital marketers and entrepreneurs do when shooting out emails. For e.g. if you are selling a product or offering some discounts on it and it is offering in detail information, your landing page needs to have the same title to that of your email. The reason is simple; you wish to maintain the "trust" factor.
Hence; if your landing page has something completely different, or it's not immediately obvious that they've clicked to a page where they can buy the "product or get the discount" they'll quickly leave the page, confused and a little worried.
2.Don't Have Complex Navigation
Again very common mistake that markerters do. They often link to other products or offers on a landing page — these additional navigational links will mix-up the concept of selling and the viewers gets easily distracted when it comes to make a decision for buying.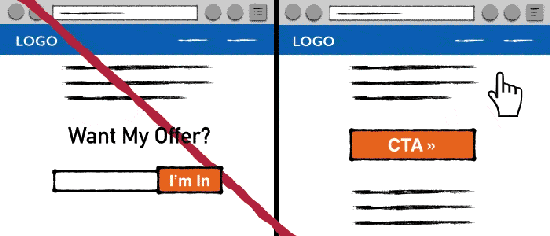 Having multiple navigation in the landing page also makes it harder to measure the impact of your offer, messages, and page design when there's more than one focus on a page. Concentrate on the purpose of the landing page and only provide information and links that will get your prospect to your intended end result. 
3.Design The Content That Is Easy To Understand
Often happens that you email get lost in the inbox or goes into the spam folders. Therefore; make it easy for people that they can easily search your message and can track down it to the landing page. 
Keep the most important content "in the first the fold" – referring to the content immediately visible on the screen before scrolling down. The message you are trying to convery should be easy to understand. As you cannot assume your customers to have done PHD in English Vocabolary.  To make it crisp and short, use bulleted text and crisp, clean language. Make sure your offer appears completely on the landing page and doesn't require the reader to scroll in order to find or follow it.
4.  Eye-Catchy Relevant Images
Images speak more than words haven't we heard that often. The same rules applies in email marketing campaigns. Landing pages that include a relevant image which give your visitors a tangible idea of what the information is all about and, what they'll receive and make landing pages much more visually appealing.
5. The Best Part – Risk Reversal
You have done a great job in your personalizing your email marketing campaigns and, your customers are already aware of the benefits of buying your product/services. They have already read all the points explaining how their business is going to benefits. Furthermore; knowing how your offer is different. 
But it's a human psychology; we are afraid when it comes to make decision. Your clients may develop second thoughts; afraid that they are making a mistake. 
So, how can you change your client's thought process? How will reduce the risk in your client's mind? Go with the risk-reversal pyschology. When you take away the risk factor from your client's mind; your sales will shoot up. 
For e.g. A risk reversal can be anything like "Full Refund"  "No Questions Asked" "Get Free Demo" "Get 1 Month Risk Free Trial" etc.
6.Lack of A/B Testing
No landing page is perfect at the first try. By A/B testing the different elements you can uncover the true potential of your landing page conversions. These are no mere words as brands such as DELL, Hubspot, WWF Switzerland and many others have found astounding results on doing corrections based on the A/B testing results.
7.Lack Of Responsiveness Since most of the emails are now opened in mobile devices, it is very necessary for your landing pages to be mobile-optimized. The page when viewed in mobile shows the responsive view with bigger fonts and form fields.
Bottom Line
Benefits of email marketing are numerous that businesses can tap. However; getting an engaging landing page for your email marketing campaign is must. A landing page, also known as a "lead capture page" is an indispensable part of your marketing strategy, where your visitors take a step further towards becoming customers. Almost 58% of the businesses build a new landing page for each marketing campaign according to the recent survey studies. 
Whether it is about B2B email marketing  or B2C, SME Network offers email marketing services which comes with range of benefits that your business can avail.
No email marketing campaign is complete without a Landing page.
Get yours designed and coded TODAY!!!
Connect with Service Provider
Get connected within 24 hours to pre-screened, trustworthy and small business friendly service providers for Services in top Indian cities