Why Hiring Virtual CFO For Your Business Make Sense
The thought of needing to hire a CFO (chief financial officer) may have never crossed your mind as a small business owner. When businesses experience unexpected rapid growth or become large enough that the financial responsibilities are becoming too much for the owner and staff to handle on their own, the investment of hiring  Virtual CFO will pay for itself tenfold inconvenience.
However, a full-time CFO costs an average of Rs. 100,000/- per month plus bonus and benefits, which clearly isn't a price that many small businesses or startups are willing or able to pay. That being said, there is a way for a small business owner to be able to afford the valuable services and knowledge of a CFO. It all comes down to hiring in a nontraditional sense.
Hiring Virtual CFO Right for Your Business?
A recent study suggested that CFO should be hired as soon as a company can afford one, but if you're not sure if you can truly benefit from the services of a seasoned financial professional, you can choose to hire virtual CFO for your business. 
Outsourcing virtual CFO makes sense when: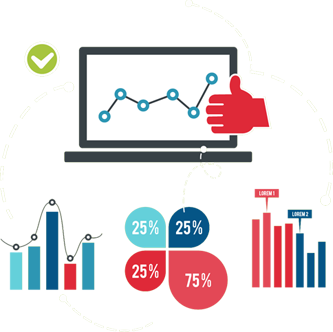 You need or want to approach investors for funding.

There is something to be said for sending a financial officer to meet with potential new investors for your growing company

You are selling your business or acquiring a new one.

When you are preparing to sell the business or purchase/merge with another company, you'll need CFO assistance.

You need help with forecasting.

If you need professional tracking of growth and performance

For any next move in your business, hiring a virtual CFO would be incredibly beneficial.

If bookkeeping has you baffled or tracking your numbers is becoming too time-consuming, hiring a part-time contract CFO should be next on your to-do list.

Virtual CFOs who provide the same benefits as full-time CFOs without the expenses of a daunting annual salary and benefits are out there waiting to be hired.
Hiring A Virtual CFO For Your Business
1. Your Business Doesn't Have A Financial Stability
Business not having a financial stability can run into huge trouble anytime. These are all signs that your finance team or your bookkeeper may need some additional senior level support. There may be a knowledge gap, too much change and/or too high a workload which makes it tough to deal with the issues. Senior level support like virtual CFO can help and improve confidence in your financial reports.
2. Cash Flow Is Not So Good
If your cash flow is getting tighter or you have a new contract which is bigger than you have handled before, its time to hire a Virtual CFO. You need to know well ahead of time when cash may be tight or your options are becoming limited. With the right data informing your discussion and enabling you to better manage your cash, your negotiating position gets strengthened with potential lenders/ investors.
3. Your Business Is Expanding 
If your business is going through a period of change like expansion, it requires having financial information to be more relevant and timely. You need a senior finance professional working closely with your finance team, to better identify and measure the key factors. This applies whether you are a for-profit business or a not-for-profit, as both need to deliver efficiently and effectively.
4. Tailor-made Guidance
Every business needs financial advice. A virtual CFO's skills and experience will prevent costly financial mistakes and identify opportunities. They're on hand to offer you guidance and act as a sounding board to evaluate your latest proposal. By hiring virtual CFO; he/she will draw your attention to the potential pitfalls as well as encourage you to seek opportunities.
5. Expert Insights On Hand
A virtual CFO offers more than simple book-keeping or accounting. They are trained to provide strategic advice, budgeting and forecasting, and more detailed financial analysis. They are not just bean-counters. Hiring virtual CFO will help to steer a rudderless ship to a destination filled with opportunities. 
Responsibilities of a Virtual CFO
Analyzing finances and interpreting the results.

Managing and providing financial direction for employers of bookkeeper if there is one on staff.

Manage the financial planning, records and reporting/calculating and risks.

Provide guidance on how to control expenditure and acquire capital for a low cost.
Virtual CFO is a professional services firm that offers a customized team model to assist companies with finance, recruiting and human resources needs. The company uses a custom approach to create an optimal, flexible team of highly trained vcfo employees. It helps in addressing your particular requirements. Not only do you get the right level of resource, but you pay only for the time you need it. With vcfo you get the right expertise, experience and execution – every time.
imagesource: https://www.linkedin.com/pulse/confessions-financial-controller-michael-mkpadi
Connect with Service Provider
Get connected within 24 hours to pre-screened, trustworthy and small business friendly service providers for Services in top Indian cities