8 Key Design Tips For High Converting Landing Page
My landing page is not getting any leads 🙁 !!! That's sad, as majority of the business owners like you are complaining the same of not getting high quality leads hence, no conversions. To get high quality leads you need to design a high converting landing page. High converting landing page?? Well, the high converting LP is specifically designed keeping in mind various elements that attracts your customer, ultimately sending you more leads and increased web traffic.
A high converting landing page rate depends a great deal on your goals, your target audience, and your industry.
High Converting Landing Page Stats
Companies see a 55% increase in leads when increasing their number of landing pages from 10 to 15
Landing page attracts close to 85% of the traffic.
Businesses with over 40 landing pages generated a whopping 12 times more leads than those with 1-5 landing pages
Landing pages with videos can increase conversion rates by up to 80%. Videos featuring references, social proof, testimonials, and user endorsements foster trust, as people prefer watching to reading. Watching a video can also keep people on a page for longer.
Your landing pages have to be simple and should be speaking to the right audience – convert your landing pages into a high converting LPs with these awesome tips.
7 High Converting Landing Page Tips For More Leads, More Conversions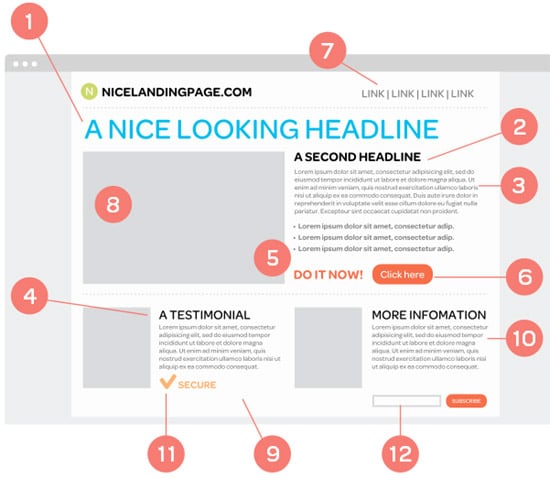 1.Consider Your Audience
An effective landing page design makes smart use of color and eye-catching images.Increase the relevance of your landing pages—and get more conversions—by being mindful of who your audience is and the message you're trying to convey.
Using generic landing page and giving everyone the exact same experience won't get you any leads as your audience is confused whether the LP the have clicked is for right for them or not. Try creating several different landing pages, each targeting a specific portion of your audience.
2.Chuck One Size Fit All When It Comes To Landing Page
If you have a great offer and have been promoting it well, you will likely be getting traffic from a number of different sources.
Customize your landing pages for different audiences. A user that arrives at your landing page from a Facebook or Twitter post is quite different than a user that arrives at your landing page from a PPC ad or a link from your monthly newsletter.
3. A High Converting Landing Page Should Provide "What It Is In For Me" Value
People don't care about your company or product. They care about how it can help them achieve something they want or need. We're hard-wired to pay attention to things that are about us, which is  why your landing page design should be a value offering page, focusing on your visitors rather than talking about your products and services. 
Let your customers/clients know how they will benefit using your products/services.
4.You Don't Need A Flashy Design But Organized & Clean One
The look, feel, and overall structure of your page design will have a huge impact on the effectiveness of your landing page and how well it drives conversions. The primary goal of your landing page should be to make it as easy as possible for a visitor to convert, so it is important that all elements of your page work towards the conversion objective, whether it being filling out a form, making a purchase, signing up for a newsletter.
An effective landing page design makes smart use of color and eye-catching images.
5.Make Your Landing Page Mobile Responsive
These days it's essential that your landing page can easily be navigated on mobile devices, as nearly 30% of all web activity comes from mobile. It's been shown that having a mobile-friendly site can even double your conversions.
Your landing page should look and feel great on mobile devices – easy to navigate, fast loading, and ultra clickable. If you want to learn more about making your landing page mobile ready, check out our guide to creating mobile-friendly websites.
6.Keep Your Landing Page Form Design Short
When it comes to creating a good landing page, less is more. It is extremely important that you make users fill out as few form fields as possible. The more fields you ask a visitor to enter, the less chance you have of them filling out the form and completing the desired conversion.
If your conversion requires a form, only ask the essentials of what you need. Remember, you can always ask for more info on the thank you page.
7.Give At-least 2 Social Proofs
By putting social proofs such as "testimonials" "feed-backs" "links to the case studies" showcases that people have used your products/services and appreciate the same.
Social proof is one of the most effective ways to improve the credibility and trustworthiness of your offer.
8.Writing Call To Values & Not Adding Call To Action
Common wisdom is that every landing page should have a call to action a tab usually found first fold and in the last telling the user to do something for e.g. let's connect, get started etc.
A better approach is to write a call to value, an action that has a value proposition attached to it. For example, if you run a financial advisory company a good call to value might be  "We Help You Save Your Money"…something like this which not only make your CTA specific, but they give the user a reason why they should take this action.
Looking For High Converting Landing Page Design & Development Services?
SME Networks focuses on all development services connected with online campaigns, internet marketing support services, we also provide landing page development services. Our digital marketing team can produce high yielding landing pages for any kind of internet marketing campaigns.
We have dedicated development team to create suitable responsive landing page templates and designs suitable for your business. There are certain design criteria for development of a landing page for different types of handyman near my location business categories. Get in touch with us for your next landing page development requirements and we would be more than happy to give you the best of both worlds – affordable landing page development cost and awesome landing page that converts. 
Connect with Service Provider
Get connected within 24 hours to pre-screened, trustworthy and small business friendly service providers for Services in top Indian cities