Facebook Videos Marketing Tips To Get More Views And Engagement
Facebook videos are entertaining and captivating!!!
Without a doubt………..
Videos can make a significant contribution to your marketing strategy.
But many marketer choose YouTube. That makes perfect sense, as about 300 hours of video get uploaded every minute on the platform.
But YouTube isn't the only kid on the block………
Facebook video is the best marketing tool to promote your business.
Whether it's friends posting a Facebook live rant, your favourite food blogger sharing a 'how to make…' tutorial or your teenager uploading Snaps or Insta stories all day, you can't deny that videos are everywhere. 
Facebook users rack up 100 million hours of daily video watch time with experts predicting that by the end of this year, 74% of all internet of all internet traffic will come from video.
What this tells us is that social video and Facebook video marketing in particular, should be part of your social media marketing startegy. Now seems to be the perfect time to take a closer look at Facebook videos marketing and how to use videos to engage more fans on the platform.
Why Should You Care About Facebook Videos Marketing?
The amount of video watched on Facebook is hard to ignore.
That isn't the only reason why video is important on Facebook, though.
There's also the issue of declining organic reach on the platform. The newsfeed algorithm now makes it harder to earn high organic reach. If video content is particularly popular, however, then there may be an opportunity for content creators to capitalize
With Facebook videos marketing being the top priority of marketers in 2017, we'd love to help you get ahead of this rising trend.
In this blog, you'll learn winning Facebook Videos Marketing tips to increase the views, and engagement. 
1.Shoot Mobile Friendly "Vertical" Videos
Vertical videos look better on mobile devices.
When shooting video on your phone, go vertical. This will produce the best results for people on their phones. The idea behind the Rule Of Thirds is to split your frame into thirds along a 9×9 grid.
This helps produce balanced shots that look visually appealing. Make sure you fit your subject within the frame. For e.g. Show people above the waist. Don't cut off heads or arms in the frame. Make sure people can see what's happening clearly.
2. Catch Attention Within First 3 Seconds
People scrolling through their news feed have short attention spans.
Make your first few seconds count. According to Facebook, you've got about three seconds to hook your viewer into your video. Even then, only 65% will continue into the next ten seconds.
In other words, leave out dramatic build-ups or introductions, and get right to the point.
3. Add Captions To Your Videos
Did you know; about 87% of the Facebook videos are viewed withtout sound.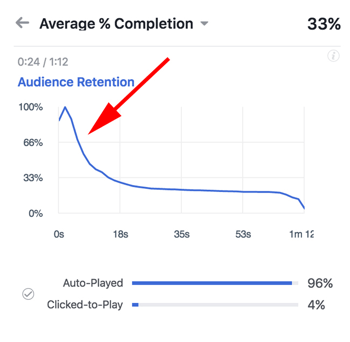 Now that Facebook videos are automatically auto-played though; the users may disable the auto-play-with-sound feature, and videos will auto-play without sound if the mobile phone is on silent mode.If a viewer can't understand your video without the sound, you would likely lose that viewer and the opportunity to convey your message. 
To prevent that, you can add captions to your videos through Facebook. You can also add captions to existing Facebook videos by editing the video.
4. Add A Descriptive Title
Facebook suggests that you choose descriptive titles which are easily searchable. Furthermore; you can add SEO keywords and optimize the same. 
With Facebook seeing more than 3 billion searches every day, it'll be worth to optimize your videos for search. You can add the title when you upload your video onto Facebook.
5. Upload Your Videos Natively
Facebook prefers video to be directly uploaded onto its platform.
Directly uploading your video makes it easier for its algorithm to put your video in front of an interested audience. This means your video uploaded directly might get more views, shares, and comments.
A recent study found that native Facebook videos received 189% higher interaction rates when compared to YouTube videos this year.
6. Tagging Your Videos
Another feature you can use to try and spread your Facebook video is tagging other Pages that either contributed to the video or that you would like to make aware of the video. 
To tag someone on Facebook, simply type the "@" symbol before the title of the Page or person you would like to tag and a few options should appear for you to pick.
7. Boost Your Videos With Facebook Ads
You can use Facebook ads to promote your videos to a specified target audience. Let's say for example that you made a video about DIY cakes and cookies, Facebook will allow you to target people who have shown an interest in baking, making several types of confectionary items and DIY tips.
8. Embed Your Facebook Videos On Blog Posts
You can also embed your Facebook videos on your blog posts to reach more people.
To get the embed code, go to the video you would like to embed, click on the drop-down menu in the upper-right corner of the post and select "Embed". Copy and paste the code where you would like the video to appear on your website. You can select whether you want to include the copy of the post.
Final Thoughts
It's crucial to make every effort to include Facebook video in your marketing plans.
After all, it is leading the pack, which makes an obvious choice.
Did you notice how Facebook has been stepping up its game? There's live streaming and video content capabilities that are almost too easy to use.
That's why using Facebook for your online video success is a no-brainer.
What about you? How often do you post video's to Facebook? Do you need assistance; we can help you with that.
Connect with Service Provider
Get connected within 24 hours to pre-screened, trustworthy and small business friendly service providers for Services in top Indian cities