Why Every Small Business in India Needs A Recruitment Tracking System
To make this process more efficient, small business owners have implemented recruitment tracking system to help them identify and hire the most suitable candidates.The highly fierce competition at hiring the best talent in the industry and the rising categorization of various job roles have created a situation in which hiring mangers must sometimes filter through thousands of CVs to find just a handful of relevant applicants.
What is Recruitment Tracking System?
Today, all big corporations and a large percentage of SMEs use recruitment tracking system to make their hiring process faster and hassle-free. A recruitment tracking system, also known as applicant tracking system or candidate management system, is a software application designed to help a company recruit candidates more efficiently. A recruitment tracking system can be used to publish job openings on a company website or job portal, screen resumes, and generate interview requests to potential candidates through e-mail. There are several other features of a recruitment tracking system:
Individual applicant tracking
Requisition tracking
Response tracking
Automated resume ranking
Pre-screening questions
Customized input forms
Multilingual capabilities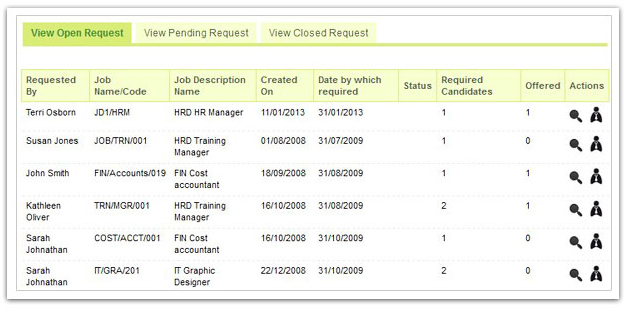 Image source:emptrack.com
Why SMEs Use Recruitment Tracking System?
Recruitment tracking system saves employers' time and helps them stay organized. Without a recruitment tracking system in place, business owners or hiring mangers would have to spend much more time filing papers or sorting through emails. A recruitment tracking system eliminates the risk of accidentally deleting an email containing the resume of a desirable candidate.
More and more small companies are leveraging the features of recruitment tracking system to automate their recruitment process, identify qualified applicants and reduce time-to-hire. Elements like resume screening, online job posting, and interview scheduling can help relieve much of the manual work associated with recruitment, allowing small business owner's or their hiring personnel to focus on more important hiring activities.
How Does Recruitment Tracking System Works?
Recruitment tracking system processes candidatures submitted by applicants and sometimes even uses social media to actively recruit prospective employees. When a CV is submitted through a recruitment tracking system, the system stores it in the database along with an entry.
The hiring personnel then searches for keywords related to the desired qualities for a particular job opening. You can even direct the recruitment tracking system to look up the company's entire database of resumes to find candidatures with specified qualifications.
What Benefits Does Recruitment Tracking System Offers?
The recruitment process can be tough for any company. Investing in a recruitment tracking system can significantly increase the efficiency of hiring function. A recruitment tracking system offers following key benefits –
Reduces administrative and personnel costs
Reduces recruitment administration time
Reduces the Time-to-Hire
Enhances retention and productivity through improved quality of hire
Streamlines the recruitment process
Reduces paperwork within the recruitment process and improves overall efficiency
Automates requisition approval process
Critical in management of an internal or external recruitment staff
Creates a database for the future
Helps avoid duplicate submissions
Direct access to social media portals
Manages job fairs, travel expenses, background checks other misc.
Measurement and goal setting
Marketing through job postings
Recruitment tracking system is the need of any business…
Recruitment tracking system makes the hiring process much more streamlined for recruiters, making the time it takes before a manager or human resources employee contacts applicants who seem like good candidates for the job much shorter. EmpXtrack Applicant puts you firmly in the driver's seat and gives you complete control over your hiring programs. You can now manage your recruitment process according to the strategic needs of your business by matching the most suitable talent to crucial requirements.
Benefits of EmpXtrack Applicant Tracking Software
Automates and tracks a wide range of information right from open vacancies requirements to individual applicants' qualifications, education, etc
Receives recruitment requests from various departments and links each of these with a job description
Posts the vacancy list on the company job portal (which we provide, if not available)
Creates and maintains records of recruitment agencies and contractors
Allows candidates to post their resumes on the Applicant Tracking portal for more than one job after registration
Tracks all CVs including those that may have been rejected
Generates automatic acknowledgment letters, interview invitations, etc
Schedules events such as written tests and interviews and informs both the interviewer and the candidate
Provides a dashboard to track the efficiency of the recruitment process
Conducts verification checks for selected candidates
EmpXtrack Onboarding software, part of the EmpXtrack Recruitment software is again an excllent way for tracking talent best aligned to organizational goals.
It is time that your small business takes advantage of the latest technology and speed up its run to success.
image courtesy:zoho
Connect with Service Provider
Get connected within 24 hours to pre-screened, trustworthy and small business friendly service providers for Services in top Indian cities