Top 5 Email Marketing Software For Small Businesses & Startups
Is email marketing a priority for your business in 2018? Are you looking for the email marketing software? Choosing the best email marketing service can have a significant impact on the success of your marketing campaign. Email marketing remains a core component of many digital marketing campaigns. With fast evolving capabilities and the ability integrate with a number of other marketing channels this tools is more sophisticated than ever.
Why It Is Important To Invest In An Email Marketing Software?
Email marketing software is widely used for promoting your product or deals, providing value content, processing a customer-initiated request and much more.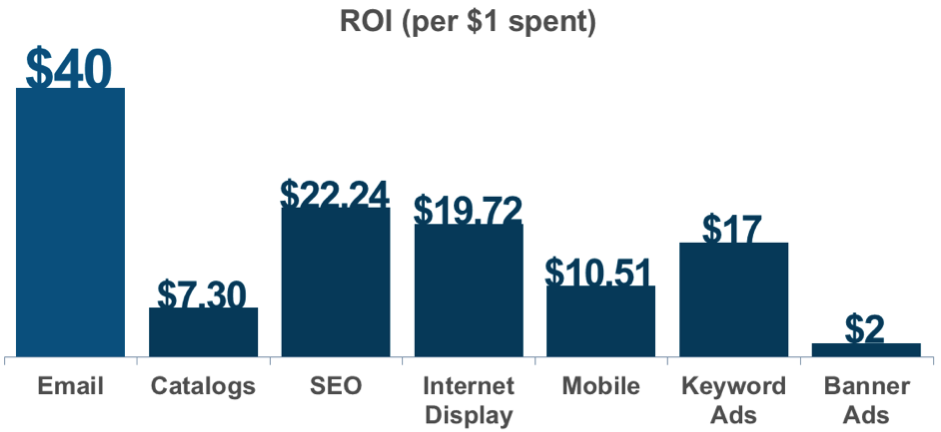 The purpose of email marketing software goes beyond sending emails. It builds customer loyalty, nurture leads and increases direct sales, not to mention brand awareness every time a recipient clicks on your email. Sending bulk emails involves time-consuming processes, which include preparing a list, segregating it to subgroups, sending the actual emails and creating feedback reports. The software does away with these and automates much of the manual workflows.
Moreover, it helps you split-test campaigns and measure ROI with clear metrics. You can even observe in real time how the campaign is performing with the solution streaming key metrics as they happen. Hence; this allows you to change the campaign at once for a better outcome.
Why Small Businesses & Startups Should Use Email Marketing Software?
Email marketing software is a cost-effective way to get in touch with your customer base, either to provide value content, promote your product or announce new offers or deals. The whole process of managing email campaigns can be tedious, but email marketing software addresses this pain point. Here are sure shot reasons to why small businesses and startups should use it:
Automation
Get accurate metrics
Wider reach but less costly
Promotes loyalty
Promotes your social media channels
Low cost A/B testing
How Will You Choose The Right Email Marketing Software?
Right from prices to features, small businesses as well as startups needs to consider several considerations. To narrow down your choices, ask these questions to yourself:
1. Integrations –  Does Your Email Marketing Software Will Work Well With Others?
As a small business owner, you're likely using a bunch of different tools to help run your business. Your email marketing software program will be just another tool in your toolbox. Before making your final decision, take a look at the built-in integrations provided by your email marketing software to see if it can seamlessly integrate with the other tools that you're already using.
2.Can You Easily Design Professionally Looking Mailers?
Every email you send to your subscribers should look professional, be full of value and leave them feeling compelled to take action.
Whether you're sending highly designed emails, text-based emails or custom coded emails, you want to make sure the email marketing software you choose allows you to easily create the types of emails you'd like to send.
3.Automation- Can You Easily Turn Your Emails on Autopilot?
The email automation tool is by far my favourite tool when it comes to email marketing software. This tool allows you to email subscribers automatically s based on a trigger that you choose. For example, you might want to automatically send a welcome email to each new subscriber immediately after they sign up.
When choosing your email marketing software, take a very close look at how their automation tool is built and how easy it is to use. As you get more experienced with your email marketing, the automation tool will become your best friend. You'll want to make sure that it's intuitive, easy to use and capable of doing what you'll need it to do.
4. List Centric Or Subscriber Centric?
Email marketing software companies generally charge you for your subscription based on the number of email subscribers you have. Email marketing software programs are usually either:
List centric: List centric programs charge based on the total number of subscribers in your account. That means if one subscriber happens to be on two different lists, you'll be charged twice for this one subscriber or

Subscriber centric: Subscriber centric programs charge based on the number of unique email addresses in your account, regardless of how many lists they're on.
When choosing your email marketing software program, you'll want to find out if they're list centric or subscriber centric as this will impact how you organize your subscribers
5.Does It Offer Mailing Statistics?
There is no point in doing a mailing campaign without the ability to track the results. In order to measure your email marketing performance, you need good statistics showing number of emails opened, sent, link tracking, lists, start/end date and time etc. Preferably this should be presented visually so that you easily can take out the ready diagrams, for example for reporting to the organization.
Here Are Top 5 Email Marketing Software
1.MailChimp
It's a known name in every segment of the industry. One of the most recognizable mailers, MailChimp handles volumes of emails and features post-campaign analytics. It also features a free app with limitation on number of emails sent per month. The paid plans though offer unlimited emails.
MailChimp also features built-in templates for newsletter design, which can be white labeled to your brand.
Likewise, it allows for segregating your mailing list for tranched sending. There is also the RSS-to-email option that automatically sends a newsletter every blog updates. The app features other key tools like merge tags, custom forms, spam filter diagnostics and social sharing.
2. Constant Contact
Constant Contact is one of the largest and fastest growing email marketing service in the world. It is also the most easy to use and beginner friendly email marketing service.
You can easily manage your email lists, contacts, email templates, and more.
Each account gives you access to easy tracking and reporting, built-in social media sharing tools, an image library and 1GB of storage for your own files.
Constant Contact offers unmatched support with live chat, email, community support, and a vast library of resources.
They also offer online training as well as live seminars in your neighborhood. This allows small business to quickly learn the basics of email marketing and start using it like a pro.
For all the reasons above, we rate Constant Contact the best email marketing service for small businesses.
3. Aweber
It is one of the most popular email marketing software that global businesses uses. The software offers a wide-range of tools for small and medium sized businesses to manage email marketing campaigns.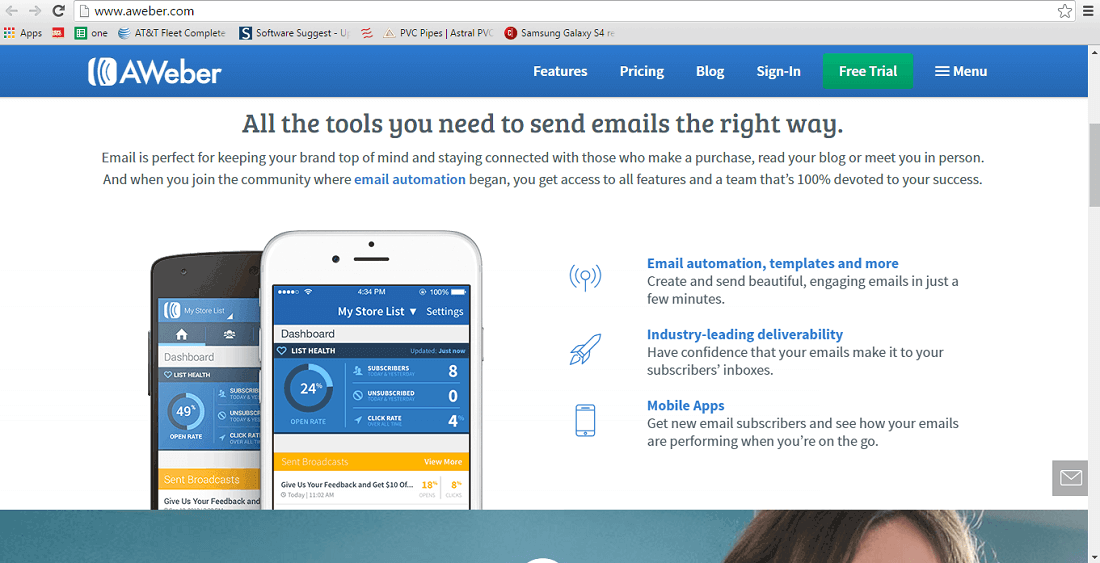 Getting started with AWeber is easy. It connects seemlessly to most platforms including WordPress. You get access to ready to use email templates, list management, autoresponders, and email tracking with detailed insights. Support options include live chat, phone support, email support, live webinars, and a vast library of how-tos and tutorials.
AWeber offers a 30 day free trial. After that, their are range of price packages to choose from. 
4. Active Campaign
The software combines your email marketing, automation, with CRM and sales. It comes with all the tools you will need to create smarter email marketing campaigns.
The software comes with a beautiful email template editor and mobile friendly signup forms. It allows you to segment contacts based on their actions, location, behavior, and social data. It can also fetch additional data about your contacts using only their email address.
It integrates beautifully with many third party software including WordPress. You can also send SMS messages to your contacts for follow up on campaigns.
ActiveCampaign's plans start from $9/month. You can also request a demo with limited features for a test run.
5. Drip
It is one of the powerful email marketing software best for eCommerce, bloggers, and marketers. The software offer a wide range of tools with their smart email marketing platform.
It is also one of the most beginner friendly email marketing service. Furthermore; they have integration addons available for all popular website builders including WooCommerce and WordPress. This allows you to easily add sign up forms to your website and capture more leads.
What sets Drip apart from the competition is their intelligent marketing automation tools, smarter email segmenting, list groups, and tons of cool features that allow you to reach specific audiences in your email list.
Support options at Drip include live chat support, Webinars, automation training, detailed course, free guides and excellent documentation.
Conclusion
With a premium being placed on email marketing today, finding the right software to make the most of your campaigns is a critical task. From evaluating the design and list-building tools to price and customer service, there are a number of factors businesses need to consider when choosing email marketing software.
There is no shortage of options to choose from however; businesses ( B2B & B2C) who do not wish to get into the hassles of email marketing software, SME Networks can help you offering email marketing services at affordable cost.
Whether it is about B2B email marketing  or B2C, SME Network offers email marketing services which comes with range of benefits that your business can avail.
Connect with Service Provider
Get connected within 24 hours to pre-screened, trustworthy and small business friendly service providers for Services in top Indian cities