Top 5 CRM Practices To Prevent Customers Saying Good Bye To Your Business
Managing customer relationships is the toughest job for any business if not done right….
The potential benefit of the CRM technology cannot be overlooked. CRM solutions have made it possible to reach out the wider mass along with improving the customer service and to enhance business growth as well. With the advancement in the technology, CRM too has made progress in offering state of the art solutions which have made a huge positive difference to the businesses.
CRM Software Will Help Your Company Stay Abreast
Implementing CRM software will help your company to stay ahead in various segments, and this ultimately helps the company to stand out in the competition.   This smart software keeps tabs on each and every dealings that takes place between the company and clients/customers. The system provides seamless business processes and this helps in regaining the consistency. 
Embracing new CRM technology will let your business enjoy several benefits. To help enhanced the changes CRM Software companies like Estar Software Solutions are offering customized solutions to various businesses through their CRM software. 
Business Is All About Caring & Growing Customers
When you are running a business, implementing new sales strategies that increases revenue and grows the company remains top on the priority list.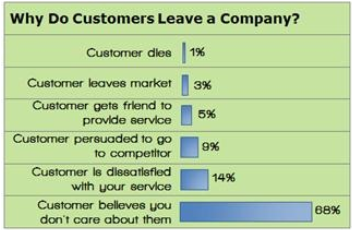 image source:superoffice.com
And when it comes to pitching products and services, the sales professionals are seen focusing more on getting new consumers than retaining the old ones. This certainly affects the sales strategy as old customers feel less important and ignored which led them to your competitor –CRM software with its newest features helps you from doing this mistake. 
 Your Customers Are Important!!!
If you are reading this, and think that customer retention is no big deal, dude you are mistaken here!!! Below are significant statistics that you will be interested in reading:
75% of your customer leaves because they are not happy with after sales services

25% are not happy with the product or the business service you are offering

10% decides to try a new product (your new competitor)
Make most from your present customer base and try to capitalize on every prospects to increase revenue 
5 Important CRM Techniques Helps You To Prevent Your Customer Saying "Good-bye" To You
image source:

cub-e.net | just coding…
1. Make Follow-ups Look Exclusive To Your Customers
CRM software acts like a bridge in reducing the gap between a client/customer & business. Having integrated CRM system in your organization will help preserve your business relation as an important relation than just sidelining as any random figure in your data sheet.
You can use personalized notes to reach out your customers. This gesture definitely helps in enhancing the business relationship and prevents your customers going elsewhere.  
2. Keeping In Touch With Your Clients/Customers
The state of the art scheduling features available in CRM software lets you set up a meetings with your customers as well as customized emails that makes them feel important and cared. By doing this, it will help you to keep tab of your appointments, and complete multiple tasks without sidelining your important work which is to take care of your customers.
3. Pleasing Your Most Lucrative Customers
The information fed in the system of your CRM can help you detailed insights about which of your customers/clients have been the most profitable ones when it comes to generating revenue. 
Plan some kind of incentives to reward your lucrative customers and this way soon you will see your customers turning into loyal base, generating more profits. 
4. Your Customers Are Special- Show Them
The software offers you with an interesting info of your customer's purchasing history which helps you to figure out the plan ahead. Which offers will interests them, which won't, what appeals them the most to buy more etc.
Using your CRM software, you will get to know about the product/services that you have  pitched in various ways and for the same your customers have shown interests. This will also give you hints on which all customers have showed interested but haven't made a decision of buying yet.
5. Keeping Your VIP Customers
Your CRM software helps in identifying the causes of your customer leaving your brand. Capture these signs to prevent your customers saying goodbye to you. 
These signs will majorly depicting:
Why there has been less sales

Why your customers have suddenly lost the interest in buying

Why they are considering another option
Knowing the above mentioned will help you regain your customers especially the frequent buyers who you will never wish to leave ever again.
How CRM Software Can Help?
CRM – Customer Relationship Management is all about A – Z of your customers. If things go well, the sales starts to see the results eventually earning are increased and this is how a good business relationship starts.  CRM Software provide you with the tools that helps you to manage your customer activities and their engagements.
The question is what do you really need to do to influence customer retention?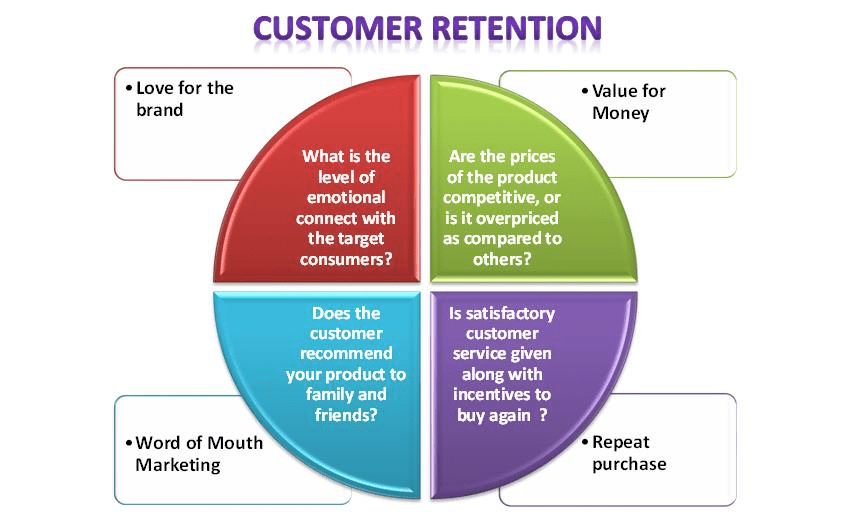 image source:

Smart Insights
Once you start implementing and putting in your hard efforts in preserving your customers, surely enhancing business relationship, there will be more purchase and more buying means more revenue. 
Let's face this fact; it is not possible just to have strategies lined up and get started. You will need a good amount of information and data of your customer to know their buying patterns. 
The following are Top customer retention strategies will help you improve your customer retention rates:
Integrate your CRM software with your automated marketing system, this helps in sending customized messages to your customers letting them know about new offers, events etc.

Use email reports to assess individual responses through email opens and click analysis to assess interest and make increasingly targeted communications.

Personalize your marketing mails with appealing content that is based on their recent purchase. For e.g. you can pitch in various restaurant deals based on their previous bookings. This not only generate interests, but also shows that your company is taking interest in their customers likes and dislikes.

Connect your software with ERP that helps in improving the order processing and reduce a duplicate entry 

Identifying frequent customers within your database and target them with attractive offers. It is perhaps the best ways to reengage them to boost revenue.

Ask them, communicate with them to know why they have not done any purchase and convenience them that they are special providing some really discounted offers and enhanced customer services.

Use feedbacks, and relevant reports to know how well your sales are and accordingly take corrective actions. 
Choosing Best CRM Software 
The majority of the professional CRM providers like Estar Solutions are consistently upgrading and reviewing their systems to provide better functionality and to offer their customers more variety.
Small businesses can benefit enormously implementing CRM if it meets the present and future needs of the business. Looking ahead to what the company needs in one or five years time, as well as the present, is also crucial to selecting the right solution for the long term.  If all these are thoroughly considered then CRM can be a blessing to your organization.
Also you can get customized CRM software which provides the best from your budget and at the same time meeting your business strategy objectives. Consulting with the right software developers for CRM to exclude unnecessary features can also help reduce the purchase price of software.
Right CRM solution providers like Estar Solutions will provide customized solutions which can enhance the execution of your business strategy.
image source:

Ten5 CRM
Connect with Service Provider
Get connected within 24 hours to pre-screened, trustworthy and small business friendly service providers for Services in top Indian cities