7 YouTube Marketing Tips To Rank Your Videos Higher On YouTube Page
Searching for latest YouTube Marketing Tips??
Could you see any ideas, to improve your YouTube marketing strategies???
You are using promotional videos in your social media strategy, but not able to get on the top perhaps you need to reconsider your YouTube approach.
As an entrepreneur, you'd be always interested in getting them rank higher on YouTube. You may have tried several video marketing strategies but didn't flourished the way you were putting your efforts. Well, there can be multiple reasons of "Why My Videos Are Not Ranking On YouTube"!!  This blog will be focusing on various YouTube Marketing Tips to help your videos rank higher on the YouTube Page.
With this ever evolving digital era, Videos have become marketer's no.1 choice because they are:
Visually appealing

Great for wrapping up complex ideas

Easy to share

Attract more audience

Improve conversion rates

Increase audience retention
YouTube Marketing Tips For Your Videos To Rank Higher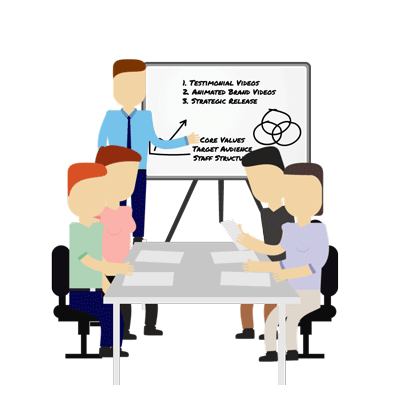 1.Nobody Watches Lengthy Videos
When it comes to making a promotional video, there's a commonly known golden rule: your marketing videos shouldn't be over three minutes long.
Why is that? Well, because video engagement is strictly linked to video length. And so is the possibility for your potential customers to watch the whole video and understand what you're trying to sell to them.
Explainer animation videos are the best types in the engagement field, they use a short introduction to present the problem during the first few seconds, then they offer a possible solution to that problem and finally introduce the brand and explain why people should choose this product among the competition to solve their problem.
2.Make A High Quality Video
Your marketing video needs to be a quality one to beat the competition in the race towards YouTube's front page.
People run away from crappy and poorly-crafted videos, especially if they're looking to spend their money on that video company, in the form of buying a product or service. That's a real problem, because YouTube really cares about complete video views in order to rank its video search results.
Consider hiring a professional video marketing company like SME Networks which can help you create a high-quality video and add some top-of-the-line storytelling techniques.
3.It Is Important That Your Video Headline Is Relevant & Precise
The headline of your YouTube video has to present your video's message in only a few words, so be extremely careful. Make sure to include your most relevant keywords in it. You need to keep your headline short: that means no more than 55 characters.
4.Get An Eye-catchy Thumbnail
the other key element to making your video stand out on any YouTube search is the thumbnail, which also has to be chosen carefully.
Make sure your thumbnail accurately represents the content of your marketing video. As with the headline, if the image displayed on the thumbnail is a blatant click-bait, you'll see how viewers drop off from the very beginning of your video.
Always use high-res images in your thumbnails (ideally 1280×720px).
5.Add Long Tail Keywords To Your Description
Long-tail keywords, as their name implies, contain longer phrases including your main keyword. By using long-tail keywords, they can drive specific search terms from potential customers in a more accurate way and, at the same time, help your video to rank under your main keyword too.
6. Optimize Your YouTube Channel Profile
Your YouTube channel is a part of your brand's ecosystem and plays a major role in the search engine rankings.
Tune up your channel profile and description in each one of your videos. Carefully choose your colors, layout, profile pic, and background. Your channel needs to be a consistent extension of your brand, such as your website or your Facebook and Twitter pages.
7. Share Your YouTube Videos Everywhere
Never hesitate to share your video in other online communities, like Linkedin, Reddit, and Quora. Use your videos in blog posts, guest articles and, when available, on any type of branded content.
Also, it's pretty effortless and always helpful to add a link to your YouTube channel on Facebook, Twitter and Instagram, on your website and in your email signature.
Benefits Of YouTube Business Advertising
YouTube gets millions of visitors each day. Putting your video on YouTube will allow you to attract more attention. Here are just some of the benefits that come with using YouTube to market your business.
Higher traffic volume

Capture more attention

Great for search engine rankings

Builds a loyal fan base

Increases your response rate

World-wide accessibility
Closing Thoughts
Ranking your business marketing videos higher on the YouTube search results with your can be a daunting task, but applying these tips to your video marketing strategy will definitely smooth the way and clear a few things up.
It's all about crafting a brief quality video, and polishing up your YouTube SEO strategy and then be social about it.
Connect with Service Provider
Get connected within 24 hours to pre-screened, trustworthy and small business friendly service providers for Services in top Indian cities