2018 Recruitment Trends Of India - Top 5 Hiring Trends To Lookout
If you feel like hiring a great talent is challenging these days, get ready for how much harder. Furthermore; it's gonna be tough in coming years. 2018 Recruitment trends have got some of the most innovative and smart ways to figure out to tap right talent for the right job. Hence; the only way to get ahead of all this is understanding 2018 Recruitment trends that are shaping how companies recruit and getting ahead of them.
As a successful recruitment manager, your strategies for the year 2018 will no doubt be about building on the data you got, projecting about hiring needs as well as industry trends.  Hence; to help you get a better idea of what will 2018 recruitment trends will be all about, we have list down some of the most important trends of this quarter and beyond.
Top 5 2018 Recruitment Trends To Watch For
1.Social Recruitment – Renewed Focus On The Horizon 
With the social media platforms like LinkedIn, & Facebook it has been practically easier to pool out the right talent. Social networking platform does wonderful job in getting the word out. We are seeing a lot of companies, and resource managers as well as recruitment and staffing agencies taking advantage of the various social media platforms. 
There's a much larger market of candidates who are considered to be digital natives which are effectively creating social job ads.  Additionally; Facebook, LinkedIn, Google etc. are experimenting with their respective recruitment on their networks, and we can see this trend taking off this year too.
2. Adapting PR Practices Are On The Rise
2018 recruitment trends is about adapting PR practices for hiring the candidates. We are expecting to see this trend of recruitment to begin to take shape by recruiters indulging in various marketing and PR practices. Perhaps; recruitment marketers will be continuing to work on the best practices and techniques which includes:
Bringing over content marketing

Candidate lead generation

Nurturing campaigns

Branding
If you think this would be a lot for your recruitment team to take on, you are not alone. And that's the primary reason why we expect to see the need for hiring recruitment marketing agency services which can help businesses by hiring the right resources ensuring the great success.
3.HR Automation Is Booming
Lot of talks are on considering the benefits that automation provides. HR Automation implementation has already proved the fact that it will be one of the significant move in HR, recruitment and staffing industry as well as for the companies to save time and cost.  Artificial intelligence (AI) and machine learning have lead to smarter platforms, therefore; it's important that recruitment marketers keep an eye on advancements in this space and constantly evaluate how these tools can help in cutting down the cost and save time.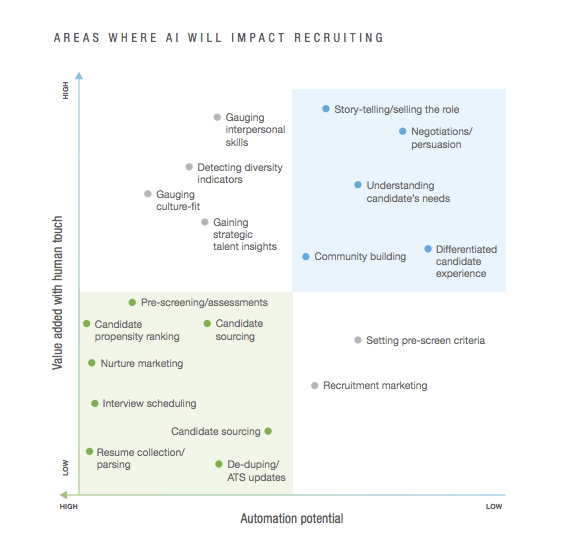 4. Growing Trend Of Remote Workforce
About 80- 90% of the workforce now a day work remotely. No wonder telecommuting has increased by 118% in the recent years. Moreover; employees who telecommute are believed to report higher morale, lower absenteeism and greater willingness to work overtime. It's good for the environment, as well as from the cost perspective too. 
Remote workers demonstrate greater productivity, while saving employers on office space.  However, many executives remain uncomfortable with the idea, and not all jobs or industries are comfortable for telecommuting. But the demand isn't likely to go away. If talent acquisition is key to your company's growth strategy, offering a remote work option, could be a smart move.
5. Flexibility In The Working Hours Is On The Rise
"Flexible work schedules" is a new term you will continue to hear in the year ahead. Millennials now make up the largest generational share of the workforce, hence; work-life flexibility is a priority for this genre/demographic.
More than half 65% of HR professionals and recruitment companies of India have said that companies have come forward in offering flexible work arrangement. Furthermore; what is even more interesting is the retention has improved when companies simply announced they were launching flexible work schedule that's how much employees want this.
Some experts predict that employers who offer flexible work schedules will see gains in recruitment and morale. Perhaps; not all companies are in a position to offer flexible work schedules. But; for companies managing aggressive recruiting and retention goals, it is certainly food for thought.
Wrapping Up
Now that year 2018 has started, it is very clear that the technology driven trends will have a huge impact on the recruitment industry soon. Furthermore; majority of the above mentioned 2018 recruitment trends are already in place and only need some time to grow and gain more acceptance in the industry. Perhaps; the best thing for recruiters, staffing agencies and employers to do is to get ahead of the curve by adopting smarter technologies of future. Be it exploring through social media, or hiring to find passive candidates or identifying jobs can be replaced with AI, hence; it's always better to start the preparations today.
Related Articles
Connect with Service Provider
Get connected within 24 hours to pre-screened, trustworthy and small business friendly service providers for Services in top Indian cities