10 Types Of Emails To Use In Your Next Email Campaign
You'd find lot of tricks, tips, and suggestions on how to design beautiful email campaigns. However. your email marketing campaigns isn't getting you the response it is needed. Why? Maybe you don't even know where your campaigns are going wrong?
We've all received an email we immediately deleted, marked as spam or ignored altogether. If this is happening to your emails, you need to determine why. Maybe you aren't effectively grabbing your audience's attention. Or perhaps your subject lines don't reach out and say "Open me!" Or your calls to action aren't conveying to "Click me!"
As long as you aren't heartlessly spamming your subscriber lists, email marketing is an incredibly powerful tool for getting messages directly to your clients and prospects. It strengthens client relationships and keeps reminding your prospects to reach out to you.
The end goal is not to have a massive list of subscribers. At some point, you have to convert these subscribers into customers.
Effectively turning all those email leads into paying customers really depends on the types of emails you're sending.
Why It Is Important To Do Different Types Of Email Campaign
If you're simply sending out the same old weekly newsletter over and over again, your subscribers will stop being interested in your emails before they have a chance to convert.
The other problem with ineffective email marketing campaigns is that they don't include a good mix of value based emails as well as selling emails. If you are constantly sending either one or the other type of emails, you'll either turn your subscribers off or you'll never sell anything.
Be willing to mix things up. Your subscribers will appreciate it, and you'll enjoy the benefit of higher open and click through rates, leading to increased sales.
To get you started, let's review some of top 10 types of emails you absolutely need to add in your email campaign list
1.Welcome Email
Your welcome email is the email you send a subscriber within 24 hours after they opt in to your list. It's a simple email that tells them how happy you are that they have subscribed, and then lays out some of the things they can expect to receive in their inbox.
2. The Offer Emails
This email includes a discount, coupon, or some other special deal that you send out to subscribers as a "thank you" for being on your VIP list. Offer emails typically have high open rates.
Whether or not your business model includes offering sales and discounts, it's a good idea to send out some sort of special offer just for your subscribers every now and then. This shows your appreciation, and drives sales.
3. Announcing The New Launch Of Product/Service Email
You know subject lines can determine whether or not your customer opens your email, and this email is no different. Be sure to tell your customers that you've got something new and fun for them to check outTo let your customers know about new items. It falls under the promotional email umbrella. You're updating customers, but also hoping for a sale.Any business can tell customers about a new item in stock/product/service. Fashion and retail businesses may get the most bang for their buck.
4.The Request Email
After you have delivered on your promises, you've earned the right to ask for a little something in return. This email can be used to ask for a favor, such as a testimonial or review on a particular site.
Since online testimonials are essentially currency in many industries, this is a high returning email. Having customers write testimonials and offering positive reviews helps in boosting your brand presence and with that sales.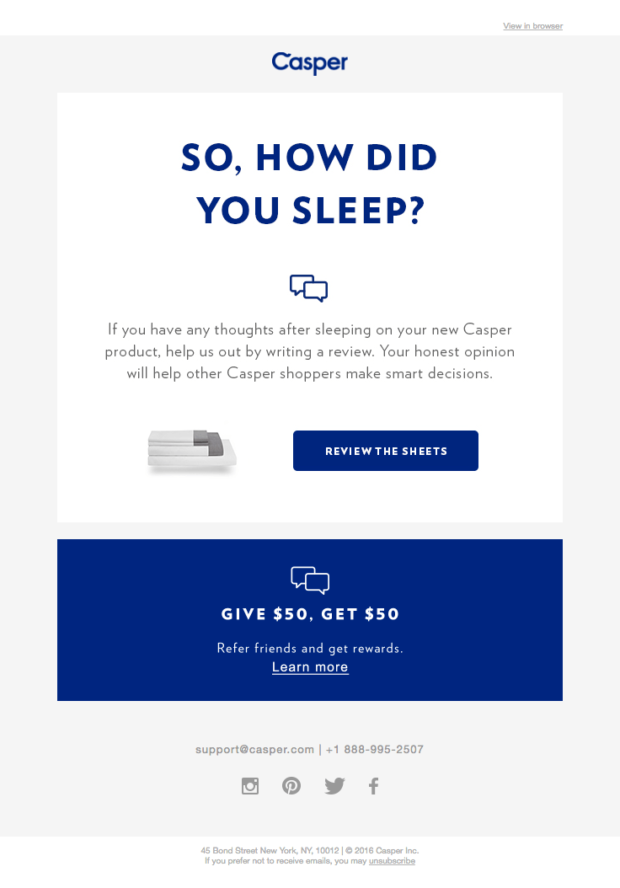 5. The Usual Newsletter Email
While the newsletter email gets a lot of focus in email marketing circles, don't fall into the trap of sending boring or uneventful newsletters just for the sake of sending a newsletter. This is a surefire way to make your followers hit the "unsubscribe" button.
Always make sure that your newsletters contain important, intriguing, or helpful information. If you don't have anything important to say this week, skip it.
The Freebies Email
An exclusive, free gift email sprinkled in to your email marketing campaign will work like magic to keep your subscribers engaged and, well, subscribed.
So what kind of a free gift should you send? An easy way to start is with something downloadable. For example,  send out a small pack of free design resources to download or give away a small sample of your product.
7. The Re-engagement Emails
It's possible that some of your subscribers will not be as engaged as others. This could be because their level of interest was low to begin with, it's been a while since your last update, or they're just not that interested in your emails. Whatever the reason, it's important to encourage them to reengage with your brand.
8. The Transactional Emails
Transactional emails are relevant to transactions your subscribers have had with your business. Unlike engagement emails, their objective is to initiate or close on a sale.
They could also be used to send or request updates on customer orders. Because of this, they are always triggered by specific customer actions and sent automatically. Engagement emails, on the other hand, can also be sent in real-time or on a pre-planned schedule rather than automatically triggered.
9. The Re-order Emails
Especially if you run a subscription service, or sell consumable goods that are ordered in regular intervals, a simple reorder email can be an effective way to retain customers.
You might have come across that the moment you finish your ordering, your vendor immediately comes up with attractive offers to lure you into next shopping.In fact, they offer to toss more products in before they ship your existing order.
10. The Abandoned Cart Email
If you have the right site tracking tools in place and customers are logged into their accounts, you can tell when they add an item to their shopping cart and abandon it before completing the purchase.
Sending a nice email reminding them that they haven't checked out is a very effective way to recover those lost sales.
Try to keep your email campaigns as simple and clean as possible. If you have an amazing video that you want to share, take a screenshot and link to the actual video on your website. Your click-through rate will be higher and your readers will appreciate not having a massive, bulky email in their inboxes.
Connect with Service Provider
Get connected within 24 hours to pre-screened, trustworthy and small business friendly service providers for Services in top Indian cities